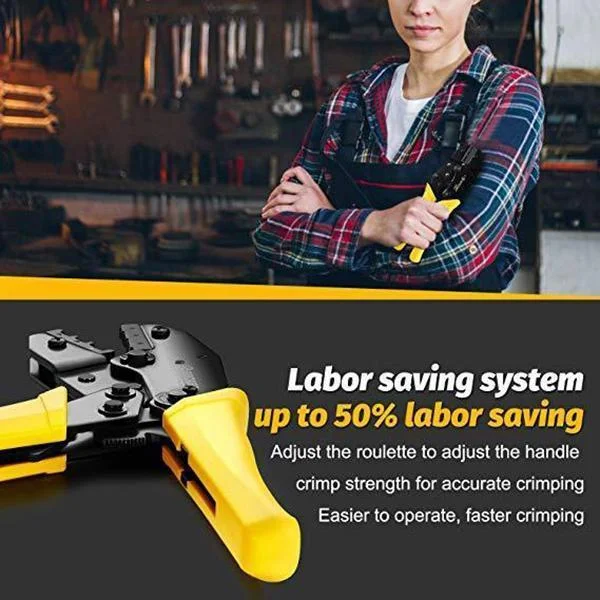 Perfect Crimp Every Time!
The Ratcheting Wire Terminal Crimper is a convenient, efficient, and harmless tool to the cable core. Simply presses the handle and operate it once to successfully crimp the wires and terminals. Comes with 4 interchangeable plier teeth and a set of terminal connectors to fit crimping ranges from 26-16 AWG (0.14-1.5mm²). Specifically designed according to human factors engineering, saving 50% energy when crimping.
FEATURES:
WIDE SUITABLE RANGE - Suitable for terminals & crimping range of wire crimpers: Colour code nests + insulated terminals 24-10AWG (0.25-6.0mm²).
PRECISE PRESS LINE - Precise press line module and integral locking design to ensure the high-quality standard during the repeated line pressing.
ERGONOMIC DESIGN - Ergonomically designed for terminal crimping, labor-saving of up to 50%, comfortable grip, insulated handle, durable, firm, and easy to use.
PREMIUM MATERIAL - Ratchet type pressure line clamp components are made of durable steel, handle material is PP+TPR.
ADJUSTMENT & REPLACEABLE - With an adjustment screw, you can adjust the strength of crimping.
SPECIFICATIONS:
Crimper Material: Manganese Steel
PACKAGE INCLUDES:
1 x Wire Crimper
1 x Wire Stripper
1 x S2 Screwdriver
1 x Tool box
4 x Interchangeable Dies
4 x Screws
1 set of Terminal Connectors