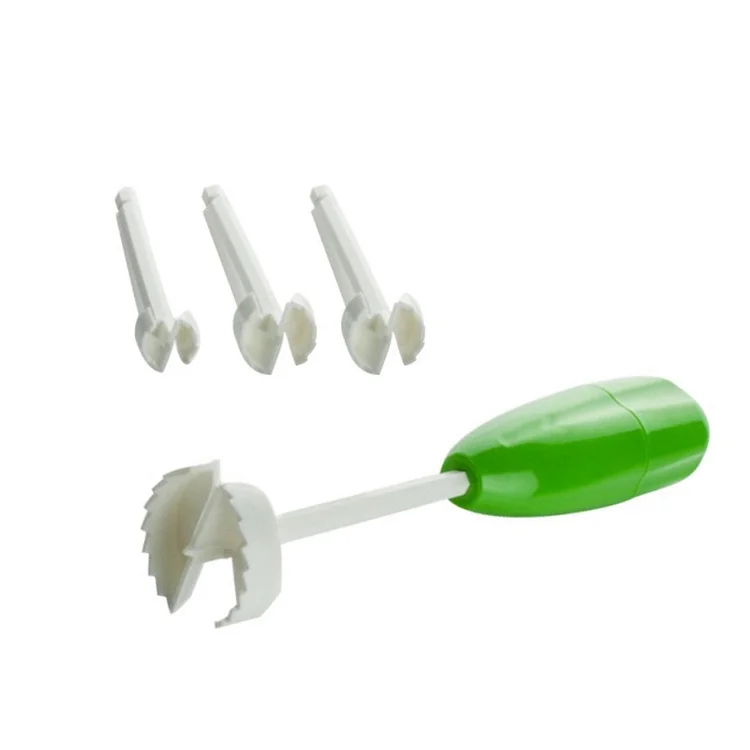 Features:
FDA approved food-safe plastic
Hollows all kinds of fruits and veggies
4 Interchangeable drill heads
Ideal for eggplants, tomatoes, cucumbers, bell peppers, etc
Dishwasher safe
Description
Hollow out all your favorite fruits and veggies quickly and easily to make exotic desserts or stuffed vegetables without a hitch!
The Veggie Drill Cutter is the perfect kitchen gadget for all your meal prepping and food decorating needs and it's small, so it fits nicely in any drawer. Using the Veggie Drill is faster and easier than cutting up a salad. Hollow out your veggies and fruits with the simple turn of a wrist. No force is needed and because it doesn't require batteries or electricity, you control the speed, so it's perfectly safe to use. The blades are made of FDA food-safe plastic, not metal, so there's no danger of cuts or bruises. It's so safe, even small children can use it!
Use the empty fruits and vegetables to make delectable desserts or an impressive main course, but don't throw away the emptied matter! Use it to prepare omelettes, stuffing, fruit pies, potato pancakes, gravy, veggie fritters or even swirly fries. Nothing is wasted!
With 4 different size, interchangeable drill heads, you can core and hollow out all kinds of fruits and veggies for that delicious stuffed vegetable recipe!
Hollow out eggplants, onions, carrots, zucchinis, tomatoes, cucumbers, bell peppers, apples and so much more!
Easy to store, easy to clean- Dishwasher safe
With the Veggie Drill Cutter you can prepare beautiful, colorful and exciting dishes that are healthy and rich in vitamins!