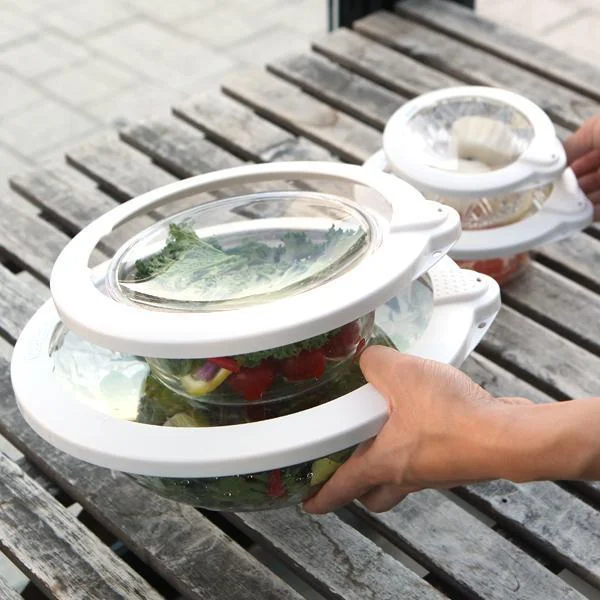 Description
Keep foods fresh longer, by keeping air out!
Nothing makes food spoil faster than exposing it to air. In a very short amount of time, the oxygen and moisture present in air, will cause food to deteriorate, and lose its flavor, as well as its nutritional value. Vacuum sealing your leftovers will ensure that they're kept fresh and taste just as delicious as they did the day they were prepared!
These ingenious, Vacuum Seal Food Cover Lids are super-easy to use! Simply place the lid over your food, making sure that it comes in contact with the clean, smooth surface of your plate, then lightly press the top of your lid, to create an instant vacuum seal! You're guaranteed to save money and time, because your leftovers will be protected from spoiling and remain edible much longer! The vacuum seal actually keeps your leftovers or prepared dishes from going bad and maintains food freshness, up to 5 times longer than using plastic wrap.
Environmentally friendly, because they're reusable, these food cover lids, help to decrease the amount of waste caused by plastic wrap in landfills. These lids are definitely a useful addition to the new wave of green products that have become so popular, in an effort to produce less waste!
Universal Fit- These handy lids will fit any dishes you have, regardless of shape, size or material.
Reusable- Easy to clean, these lids are dishwasher safe and perfect for refrigerator and freezer storage.
Convenient- Keep these handy silicone stretch lids available for use on glasses, cups and small bowls. They're perfect for replacing lost or misplaced lids!
Available in White or Multi-Colored Lids!