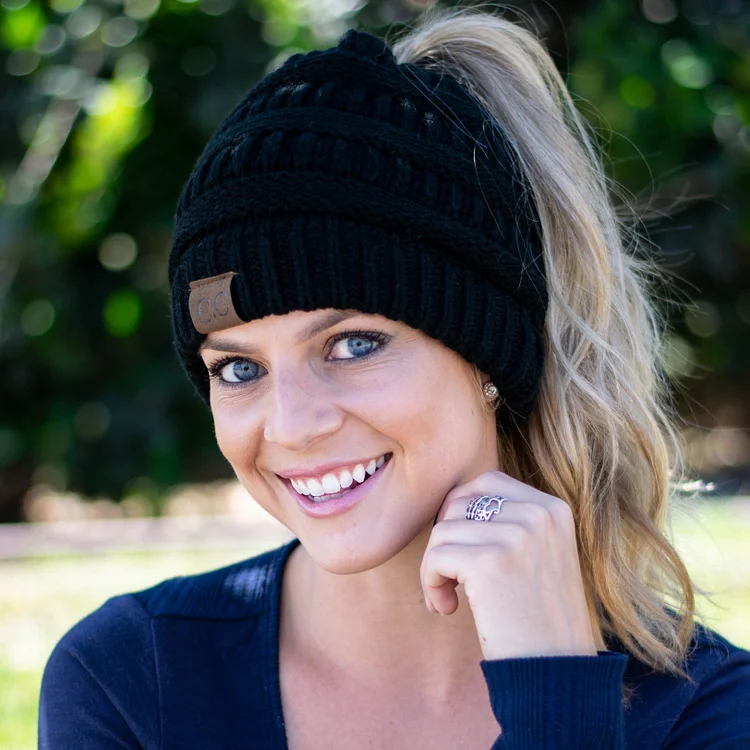 It seems as though, all of a sudden, these adorable beanies are everywhere you look and we are loving the look of these messy-hair don't care knit hats! They are absolutely perfect for the pony-tail lovers of the world! The Soft Knit Ponytail Beanie has a knitted or crocheted feel and it's specifically designed for long-haired folks who, undoubtedly, have struggled with the age old question: How can I wear a hat and have an up-do at the same time, because these hats are created with a hole built right into the crown. This unique feature makes them the perfect hat to compliment that messy-bun! Each soft knit beanie is handmade and of excellent quality! They also come in a large variety of colors, making it easy to find a beanie (or two) that fits your particular wardrobe!
These soft-acrylic, stretchable, Soft Knit Ponytail Beanies are adorably stylish and comfortable. The easy to wear design and warm, cable knit material make it the perfect accessory to complete any outfit and one size fits most. Experience next level ease and convenience, when salvaging your perfectly placed ponytail, by threading it through this ponytail beanie!
Our most favorite trendy find for the fall and winter season, these high-quality, acrylic, cable knit ponytail beanies are the perfect cold weather hat for everyday use and they're ideal for any and all outdoor activities. Wear them while watching sporting events, ice skating, snowboarding, skiing, or hiking. Stylish and comfortable, this cold weather accessory is guaranteed to keep you warm this fall and winter. With its easy to wear design and warm, cable knit material, plus the wide variety of stylish colors, this beanie goes perfectly with anything and you're sure to find just the right one to match every outfit in your cold weather wardrobe!
Specifications:
Composition:

100% Acrylic
Brand:

CC Brand Beanie (Small, brown, leather tag with CC brand attached)
One size fits most:

Stretchable and snug fitting
Care:

Hand wash in cool water, using mild soap and line dry