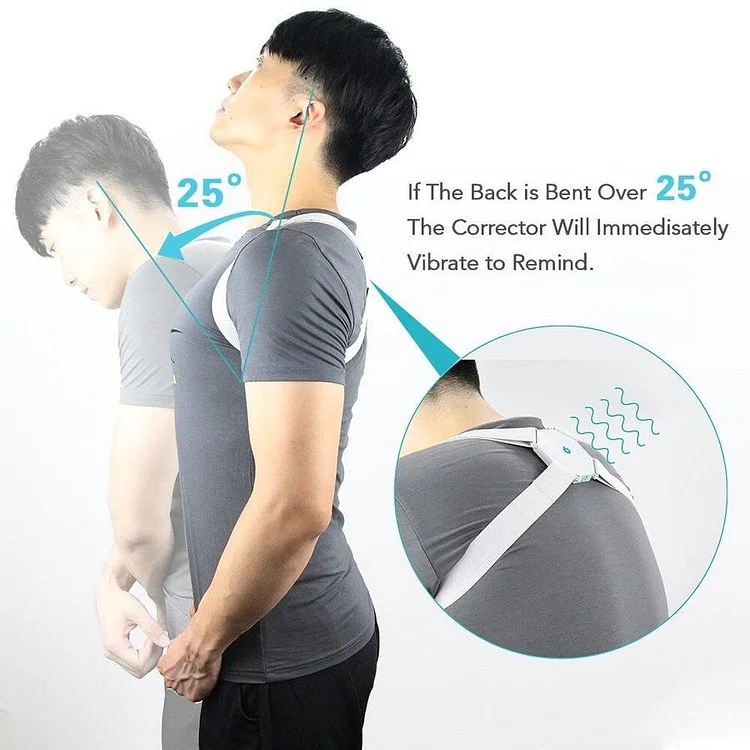 🔥 Hot sale-both adults and children can use 🔥
Smart Posture Smart Posture Orthotics can help you correct bad posture habits, relieve neck and shoulder pain, and raise your head and chest will be more confident!
Rappel de posture intelligent :
When the user's back is bent more than 25 degrees, the back reminder will automatically detect and immediately activate the vibration alarm. When your shoulder is bent forward and the tension is abnormal, the sensor will vibrate immediately to remind you.
The posture corrector adopts an 8-character ergonomic design, adapts to the human body curve, and opens the shoulders comfortably when worn. It can perform real-time angle monitoring through a smart chip, and the humpback sensor will automatically sense and vibrate to remind you to achieve the correct body posture. Goodbye to the traditional mandatory correction.
Long standby time:
The back calibrator uses a 500mAh lithium polymer battery, which can be used for about 15 days after charging for 2 hours. It can be easily charged by connecting a USB cable. The switch has an indicator light, red constant light means normal charging, blue constant light means full charge or normal operation. If you cannot turn on the reminder, please charge for 10 minutes.
High elastic nylon belt:
The high elastic nylon shoulder strap is easy to adjust, more elastic and more comfortable, suitable for people from 15 kg to 95 kg. The shoulder strap is made of breathable porous mesh, leaving no marks. It will not dig your armpits, will not hurt your skin, it is comfortable and can be worn all day.

Scientific and effective correction:
We recommend that users wear the posture corrector for 2 hours a day. The usual training time is 21 days, and the posture will be significantly improved, and the 90-day persistence will enter the usual stable period. The correction process is not easy, this corrector is an excellent choice for promoting long-term muscle memory.