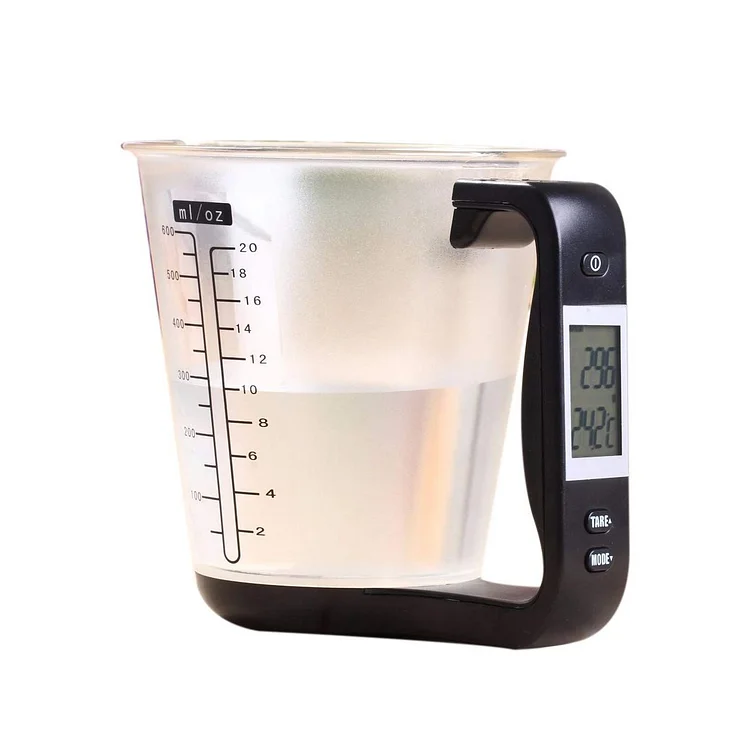 Features:
The measuring cup has a thermometer & a scale
Capacity: 1000g / 600ml
Measuring Temperature Range: -40°C to 120°C
Battery: 1 x 3V CR2032 battery (not included)
Colors: Green, Red, Black
Measures in grams, mm, cups, oz. & pounds
Easy-to-clean & easy-to-read measurements
Includes low battery warning, auto-off & auto-add function
Description
Ever find yourself wishing you had a measuring cup, thermometer and scale, all in one? Well, you're wish has finally come true! The ingenious idea of combining these three kitchen essentials into one functional and very handy kitchen utensil is now a reality!
Not only does the Smart Measuring Cup measure your ingredients in grams, milliliters, cups, ounces, and pounds it also gives you a temperature reading of the ingredients. This kitchen tool is perfect for those recipes that require liquids to be a certain temperature.
This smart measuring cup has an easy to read, digital screen that always gives the exact measurements, which is particularly helpful if you're dieting or concerned about portion control, simply press the mode button to convert to units.
Measuring just got a whole lot easier!
This unique measuring tool has an easy-to-read, LCD screen built into the handle for at-a-glance measurements.
The smart cup automatically converts 5 preset ingredients, (flour, sugar, milk, water, and oil) from ounces (weight) to cups (volume).
Includes auto tare/add function, a low battery warning, and an auto-off function
Easy to Clean- Hand wash only with warm, soapy water and allow to air dry
Capacity: 1000g / 600ml
Measuring Temperature Range: -40ºC to 120ºC
Battery: 1 x 3V CR2032 battery (not included)
Colors: Green, Red, Black