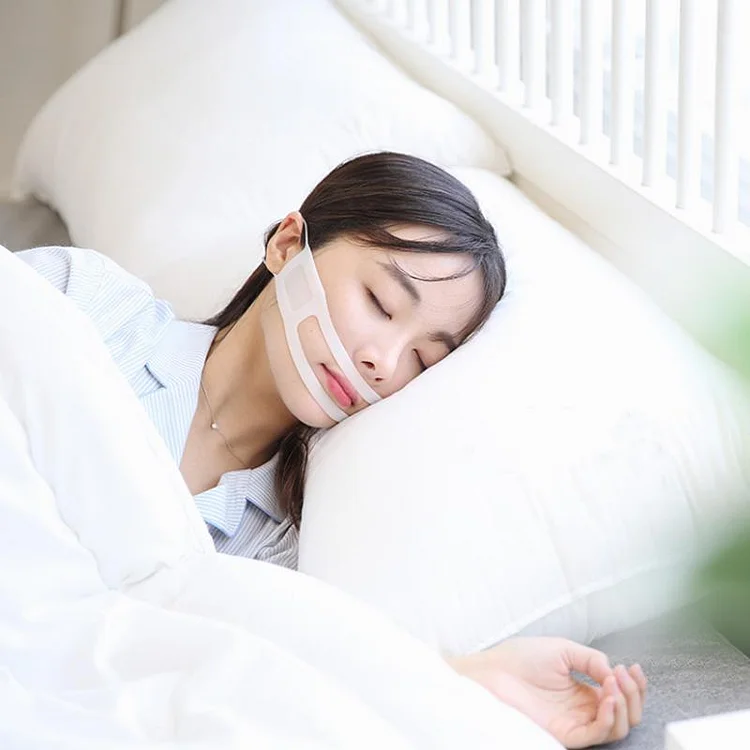 Are you suffering from snoring and respiratory issues that affect your sleep? Are you always tired no matter how many hours of sleep you may get a night? We have a revolutionary item that will help you with your sleep: the SleepBuddy Strip.
The idea behind the SleepBuddy Strip is to hold tight together your chin and mouth so that you avoid sleeping with your mouth open, the main cause of snoring. That way, you can avoid the unpleasant sounds and you will get to enjoy the good night's rest you have been dreaming of.
TOP QUALITY

: the SleepBuddy Strip is made from durable silicon that will for sure hold tight your chin in a non-painful way that guarantees the lack of snoring. Therefore, the risk of the strap breaking under pressure is zero, allowing you to enjoy sleep in a painless and safe manner.
FLEXIBLE AND ADJUSTABLE:

it is true that the

Silicon Gel

 is a sturdy material that will ensure safety while wearing it, but we have designed the strap to be adjustable and flexible, so that it fits any size, but it also provides with comfort and avoids the pain of traditional anti-snoring devices.
FOR YOU AND YOUR FAMILY

: it is true that the main victim of snoring is the person who suffers from this condition, being unable to breathe properly, but it is also the close family who has to deal with unbarring sounds and sleepless nights. That is why we believe to have the solution for everybody's comfort and rest, the SleepBuddy Strip.
Specifications:
Colour: AS SHOW.
Weight: 100g.
Material: Silicon Gel.
Package Include:
Note:
Due to the different monitor and light effect, the actual colour of the item might be slightly different from the colour showed on the pictures.