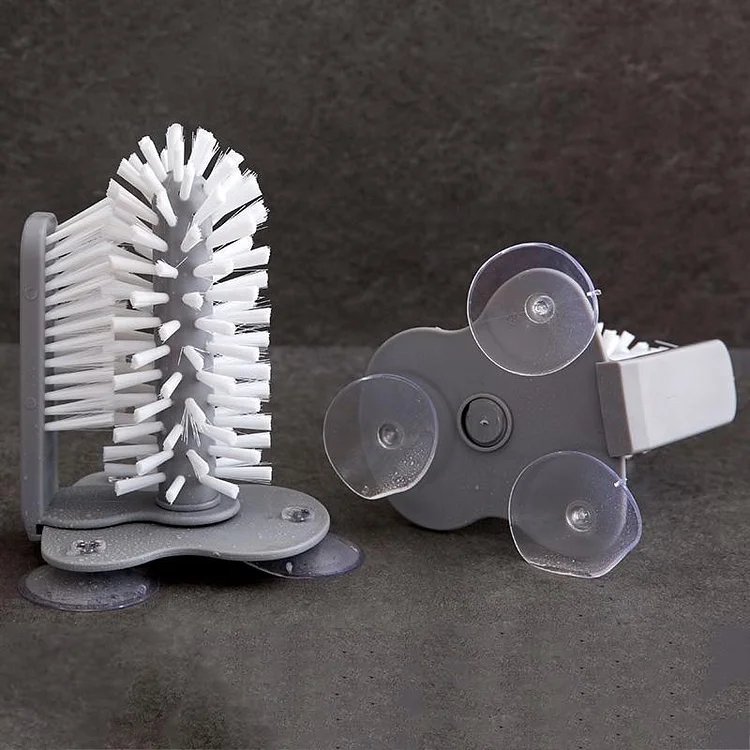 Features:
Made of PP + PVC material
With suction cup base
Strong brushes
Easy to clean and remove
Easy to disassemble
360° rotatable
Description
Late for work, school or a party and you've got a sink full of dirty glasses? Looking to save time and energy while washing dishes?
Why waste precious time cleaning your glasses by hand and why take the chance of having a glass break, while you've got your hand inside it, trying to clean that stubborn smudge at the bottom of the glass?

Introducing the amazing solution to your problems! A perfectly designed product, our 5 seconds, 360 Degree, Sink Glass Cleaner Brush is the ideal way to wash and clean those sticky, messy cups and glasses, with minimal effort and maximum safety.
SUCTION CUP INSTALLATION - The suction cup design means this brush can be installed anywhere on the side of your sink. Simply secure the suction cups to the inside of your sink and slip your cups or glasses over the brush to allow the strong bristles to scrub and clean the mess for you.
STRONG ADHERENCE - The strong suction cups provide a powerful hold to ensure that your cleaning brush stays put!
STRONG BRUSHES - The double size, extra-large brushes enable you to remove and clean stains and stubborn dirt from glasses and cups quickly and easily.
EASY TO CLEAN & REMOVABLE - The brush is removable and easy to disassemble for cleaning!
PORTABLE - Brush is small enough for convenient storage and doesn't take up much space.
EASY TO DISASSEMBLE - The suction cup platform features a small handle, making it easy to remove and disassemble.