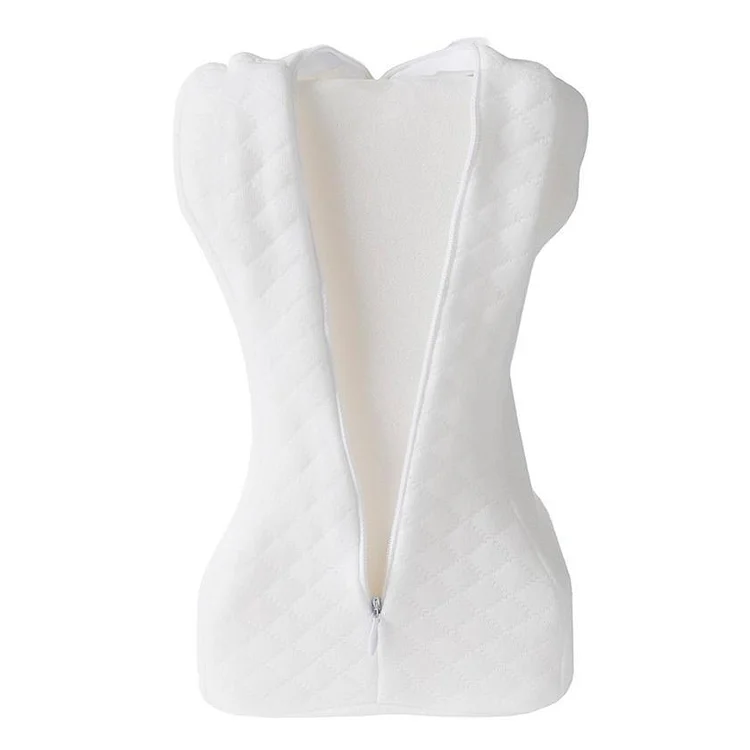 Features:
Fits comfortably between your knees or thighs
Relieves pressure on your lower back and minimizes pain from sciatica, bursitis, or injuries
Provides comfortable sleep
Keeps your legs, hip, and spine in ideal alignment while sleeping
Breathable and hypoallergenic
Machine washable
Dimensions: 10.04 x 8.07 x 5.71 inches
Description
Side-sleepers, prepare to get the best night's rest you've ever had!

If you're a side-sleeper, you know that keeping your knees cushioned can mean the difference between a comfortable sleep and a restless, broken sleep. When your knees rub together during the night, it can cause poor posture, or painful pressure on your legs and even your hips. The Side Sleeper Knee Pillow is a memory foam pillow that's designed to fit between the knees or thighs of sleepers and it won't move during sleep. Plus, the highly durable, memory foam will retain its shape, night after night, without deforming!
This amazing pillow is specifically designed to alleviate discomfort from knee arthritis, spinal misalignment, bad backs, hip bursitis, sciatica, assorted back injuries, recent surgeries and even pregnancy! You're sure to sleep well with the Side Sleeper Knee Pillow!
Ergonomically designed memory foam pillow fits comfortably between your knees or thighs to provide maximum comfort and support, while relieving pressure on your lower back and minimizing pain from sciatica, bursitis or injuries.
Designed for a more comfortable sleep and to stay in place, while retaining its shape, this pillow provides long lasting comfort.
Keep your legs, hip and spine in ideal alignment, while sleeping, to improve circulation and prevent discomfort.
Breathable and hypoallergenic, zippered cover is machine washable and ensures that the pillow stays cool while in use.
Please note: Please air the pillow out for at least an hour prior to sleeping the first time. Do not machine wash or dry the pillow itself- Spot clean only with a damp cloth.
Dimensions: 10.04*8.07*5.71In