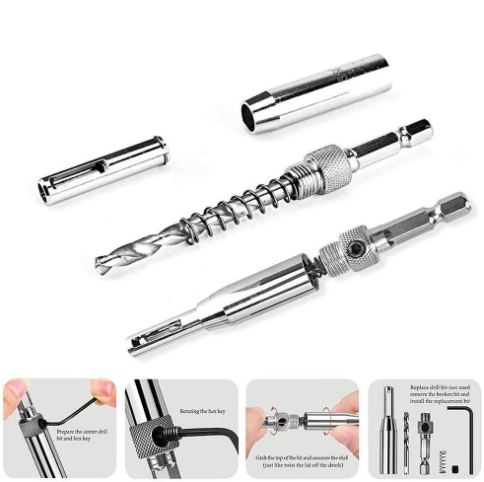 Our 7 piece set of Self Centering Drill Bits are guaranteed to make any drilling jobs you have easier and faster. Gone are the days of trying to eyeball where the center of the hole is, only to end up a fraction of an inch off, and having to restart.
Now you can save your time and energy by getting the perfect pilot hole every single time with minimal effort.
Features:
Perfect Precision Every Time: Built with a spring-loaded guide that centers the bit every time, giving you a perfectly centered hole without fail. Save time and effort with a professional finished product.
Versatile Sizing For Every Job: This 7 piece set comes with 7 different drill bit sizes, guaranteeing you will never be without the right-sized tool for the job (see sizing chart at bottom of the page.) Perfect for cabinet installation, door installation, windows, drawers, and more.
Reliable & Durable: Expertly crafted out of aircraft-grade aluminum and carbon steel, these drill bits extremely durable, shockproof, and rustproof. They will keep working long after the job's done.
Specifications:
Materials: Carbon Steel and Aluminum
Shank Diameter: 1/4 inch
Drill Bit Sizing: 5/64", 7/64", 9/64", 11/64", 5mm, 13/64", 1/4"