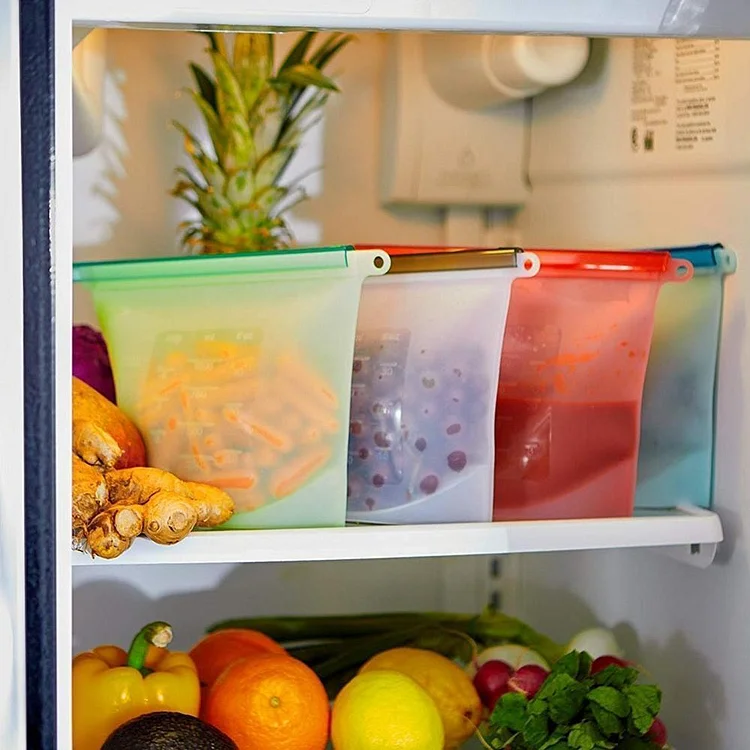 Features:
Reusable & non-plastic bags
BPA-free, leakproof & non-toxic
Comes in a set of 4 bags
Color of 4 bags: green, red, blue & clear
Material: sand-derived silicone
Dishwasher, Microwave, Freezer Safe
Heat Resistant - 50 c ~ 250 c +
Description
It's Time To Rethink Plastic!

Our Eco-Friendly, Reusable Food Storage Bags are the best, non-plastic bags in the world. Fun. Functional. Reusable. Responsible. These storage bags are multi-functional, 100% silicone, food-grade bags that are a healthy alternative to plastic. Save time and money by freezing, cooking, storing in the fridge and warming up meals, all in the SAME REUSABLE SILICONE BAG!
Store any kind of foods, from liquids, such as soups, stocks, or sauces to solids, like fruits, veggies, cheese, ready and pre-cooked meals, meats, fish, even pre-made smoothie ingredients. They're perfect for lunches, organic baby snacks, picnics, camping and also pet, cat and dog food for when you're on the go.
Leak-Proof & Non-Toxic
BPA-free & Made of sand-derived silicone (not plastic)
Dishwasher Safe &Heat Resistant - 50 c ~ 250 c +
Microwave Safe & Freezer Safe
Set of four bags (green, clear, red, blue)