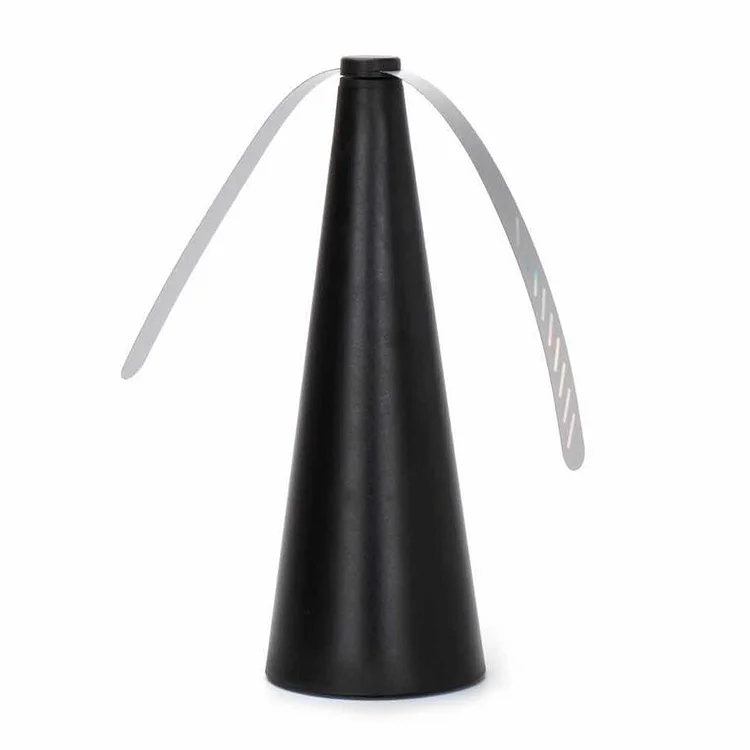 Flies aren't only annoying—they're also extremely dangerous! They carry bacteria and diseases that can contaminate your food. Automatic Fly Trap keeps flies and pests away from your table so you can relax and enjoy outdoor meals. It has holographmatic dots on the blades so you aren't constantly swatting bees, wasps, or flies while you're camping. No more nasty, disgusting bugs crawling all over your sweet treats!
Features:
SOFT-STOP BLADES, CORD-FREE: Blades come to a stop if something touches them, then resume as soon as the obstacle is removed.
WHAT KEEPS THE BUGS AWAY? Dots refract/bend light which scares the insects. Bending light is not a part of their DNA. In their little fly minds, the bending colored lights are not normal in nature and it appears dangerous to them. They will always choose to go somewhere else.
KEEPS FLIES OFF FOOD: You can finally enjoy a conversation over an outdoor meal without swatting flies all the time. This is a light-weight, odor-free fan you place on top of your outdoor or picnic table to keep flies from dive-bombing your food.
ENJOY THE OUTDOORS: Sunbathe, play cards, sit by the pool or dine out on the back deck without kamikaze flies landing on you or hovering over your food. Order your ShooAway now and you will be surprised how well it works.
Description
Avoid the hassle of swatting the flies and mosquitos on your food with this smart Fly Repellent Fan. Owing to its soft flaps, it provides a weak current of wind to flow near your food that keeps the flies away. Also, the refractive dots on the flaps bend the light to create a disturbing effect for them.
Drive away flies and mosquitoes during outdoor dinners.
Material: ABS + PVC
Color: Black, Silver, Gold
Size: 25x9cm/9.84x3.54in
Battery: 2 X AA batteries (not included)
What you will get:
Soft blades: Flexible fan blades stop on gentle touch and resume once the object (hand, plate, etc.) is removed.
Refractive dots on the blades: The refractive dots on the 2-bladed fly fan bends the light, which appears to be dangerous for the flies. They stay away from it.
Use for: Food placed on picnic mats, food placed on tables, besides a sleeping baby. Also great for restaurants.
Length: 9.84 inches
Note:
Due to the different monitor and light effect, the actual color of the item might be slightly different from the color showed on the pictures. Thank you!
Please allow 1-3mm measuring deviation due to manual measurement.
PACKAGE INCLUDES:
1 X Mosquito Fly Repellent Fan