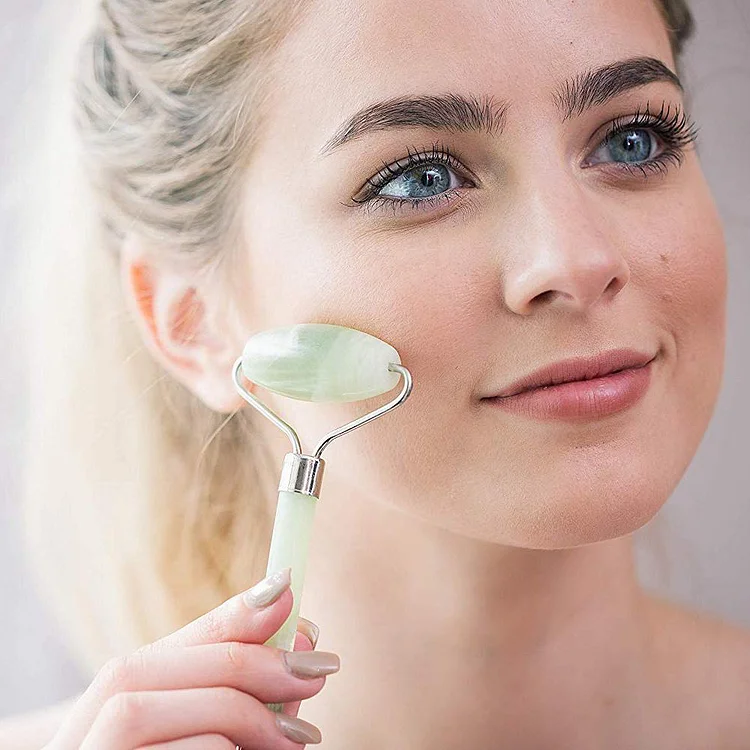 Features:
Set includes (jade or rose quartz) roller and Gua Sha tool
2-sized jade stones for small and larger areas
Promotes blood circulation and tones the fine lines, wrinkles
Promotes lymphatic drainage
Improves skin elasticity
Gua sha set reduces skin imperfections
Removes dark circles and bags under the eyes
Complexion becomes bright and fairer
Recommended usage time: 10 minutes daily
Description
Real Jade Facial Roller, this amazing massager has been utilized for thousands of years in China and they're known for their cooling properties in revitalizing essential energies and maintaining body fluid. Use of the Jade stone rollers helps to improve circulation by stimulating the meridian points.

Use it in the morning or at night after your cleansing routine. Simply roll the jade roller over your face and neck for a minute to two. You can use it with your favorite serum. The Jade Roller may be placed in the refrigerator or the freezer to increase toning effects. The Jade Roller includes a large rolling stone for larger areas of the face like forehead or cheeks, and a smaller rolling stone for small areas of the face such as nose or eyes.
The Gua Sha Facial & Neck Lifting Tool is mild but works by creating a gentle scraping action along the surface of the skin. As the skin is scraped, the layers of skin are stimulated. Stagnant lymph, that causes puffiness, is moved and cleared out of the system.Toxins are also released, resulting in a clearer complexion! Finally, the massaging action relaxes tense muscles, from which wrinkles are born. It's a WIN, WIN, WIN Scenario!
The Jade Roller and Gua Sha are made with natural stones so each and every tool is unique in pattern and color.
Benefits of the Jade Roller:
Improves blood circulation and skin tone
Improves elasticity of the skin
Promotes lymphatic drainage
Reduces puffiness and wrinkles
Reduces dark under eye circles
Eliminates toxins
Tightens and reduces pore size
Benefits of the Gua Sha Tool:
Firms up sagging facial muscles
Smoothens facial skin and reduces the appearance of fine lines and wrinkles
Improves dark circles and bags under the eyes (those caused by advancing age)
Lightens age spots and other skin discolorations
Your complexion becomes rosier and more radiant
Helps clear up acne, rosacea, and other facial skin conditions