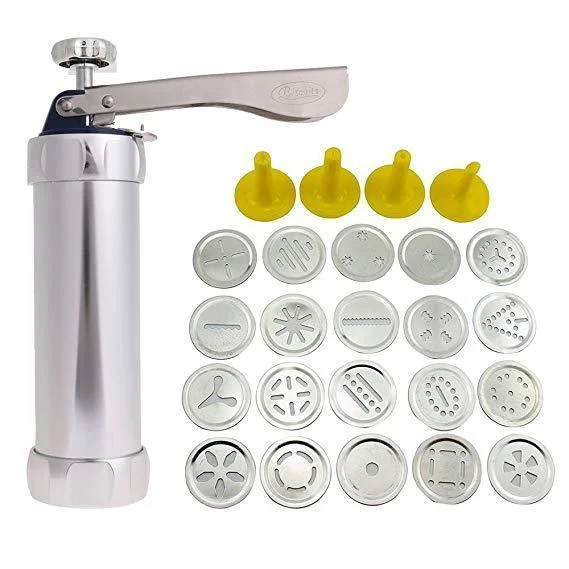 Description
Making Cookies Has Never Been Easier!

Now you can make perfectly creative cookies, without rolling or cutting dough, using the Pro Cookie Maker Set! Simply load up the Pro Cookie Maker with your favorite cookie dough and extrude the firm dough into perfectly shaped, delicious cookies and other treats, right on the baking sheet, as you release the lever. Enjoy flawlessly formed homemade cookies in just minutes. With 20 different molds, the variety is endless! You can make oodles of different cookies, for any occasion, using the various molds and use them for decorating bowls, desserts, sandwiches, canapes, recheie donuts and more.

The ergonomic handle feels great in hand and the easy-squeeze action makes baking simple and fun.

Made of high-quality aluminum this cookie press is food safe and rust resistant, as well as strong and light.
This cookie set includes 1 Cookie Press Cutter Machine, 4 Nozzles & 20 Cookie Molds in a variety of different shapes and sizes. Each one is made from sturdy and strong material that's easy to disassemble and clean and is dishwasher safe. They're great for detail work!
Create a variety of professional looking cake decorations and biscuits with the Pro Cookie Maker Set.

Our set comes complete with 20 stainless steel discs. Simply insert the dough into the press tool, unscrew the bottom and insert your chosen disc. Experiment with different biscuit shapes and create beautiful tasty treats!

The spring-loaded lever is easy to squeeze for perfectly shaped dough, every time!
No piping bag is needed. The 4 nozzles will help you to create perfect cheese straws and you'll be able to decorate your cakes just as you like.
Ergonomic Handle: The top of the press is contoured, providing you with a comfortable grip.