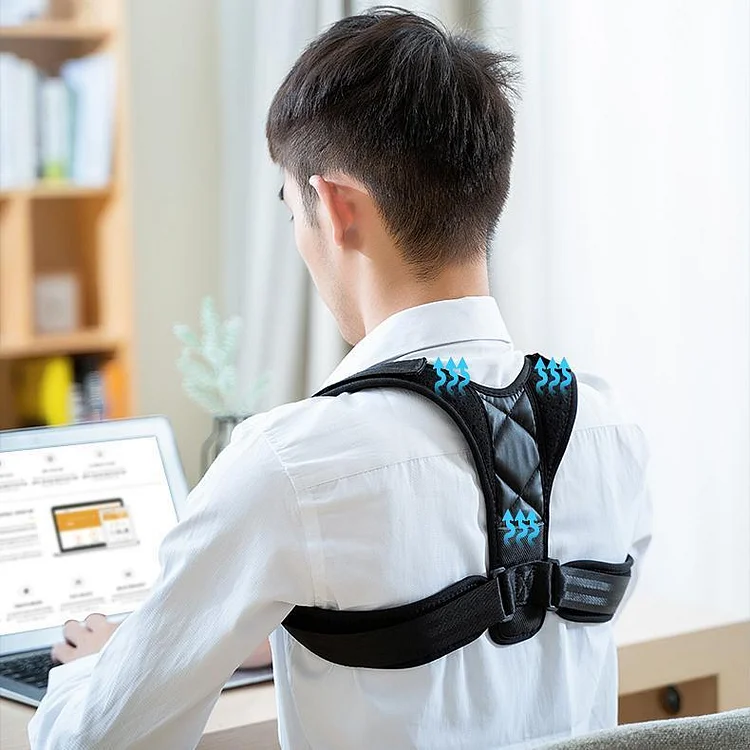 Features:
Provides you an upright posture & prevents slouching
Ideal for offices and schools
Straps filled with foam for added comfort
Wear it under the shirts even
Prevents from sprain and muscle pulls during workouts
Easy fit for every body type
Description
The odds are pretty good that you're reading this, right now, while hovering over your smartphone. Unfortunately, this also means that you're probably sitting (or standing) in a risky or even dangerous position known as slouching! Your head is forward, shoulders rounded and your back is curved. This isn't the optimal position for either comfort or health!
The Posture Corrector Brace allows you to engage in activities, like scrolling through your social media or emails, without having to worry about your posture. Keeping your back straight or maintaining correct posture is just a given, you don't have to think about it. You just know that the brace is doing its job!
You'll stand a little taller and walk with more confidence while wearing this #1 recommended posture therapy brace. Provide additional support to just the right areas, so that your neck and spine are aligned in a correct and healthy position. This brace will actually train you to maintain a healthy position!
This posture therapy brace isn't just about a temporary fix to a bad habit. Once your body has adjusted to wearing the brace, muscle memory forms to help you naturally adjust to a new and healthier posture.
Features:
It's so comfortable, you'll forget you're wearing it, unlike the lower-quality posture correctors that tend to pinch your underarms and dig into your skin!
Easily adjusted, to fit a variety of body types
Avoid injuries altogether! Perfect for workouts, this posture corrector will help you maintain proper form, so that the chances of you getting injured while getting in shape, are drastically reduced!
Lightweight and durable, the straps on the Posture Corrector Brace won't break and you won't feel weighted down. This makes wearing your brace, all day long, easy!
Available in Medium and Large-
Small-Medium: Suitable for chest size 29-39inch (70- 98cm)
Medium-Large: Suitable for chest size 39-49inch (96 -124cm)