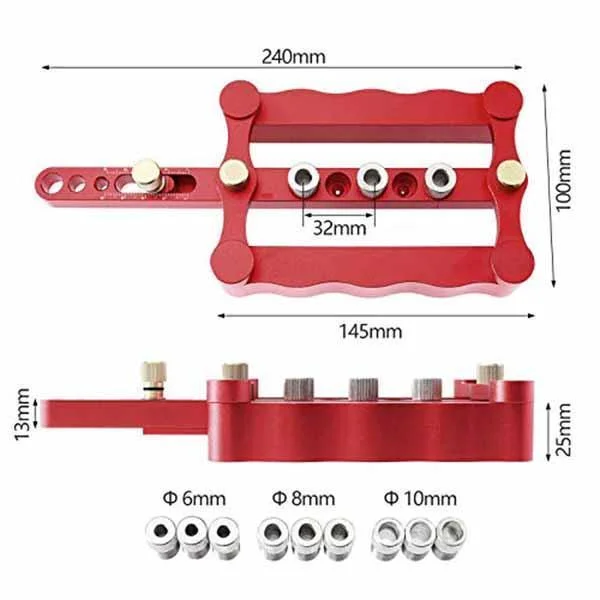 This layout tool takes all the guesswork out of precisely marking-out mortise and tenon joints that are centered exactly on your stock. Based on the never-fail reliability of a parallelogram, the MT Center Gauge features two, precision-machined parallel arms that quickly adjust to the stock thickness, placing the center bar dead center on the material. Just use a pencil, marking knife or scribe tool to mark out the center bar location on your stock and you're done!

Changing the thickness of your mortise and tenon layout is fast and easy. Simply remove the two thumbscrews that hold it in place and switch to the marking bar width you want. Marking bars are machined from stainless steel for maximum durability when used with marking knives and come in 1/4", 3/8", 7/16" and 1/2" widths for the inch version and 4mm, 5mm, 6mm, 8mm and 10mm for the metric version. These are all the sizes you need for the stock from 1/2" to a full 1" thick and more. The parallel arms open to accommodate stock up to 2" thick. Each marking bar has a precision-machined 1mm tapered hole centered on the bar's width. Reliably finding the center of the stock is essential in a variety of layout work. Use this feature to mark the exact center of stock with either a scribe tool or mechanical pencil.

To switch to doweling mode, remove the marking bar and attach the doweling jig bar. To use, simply align the precision-machined notches on the jig's doweling bar with the dowel location mark on your board, hold the jig and drill. Slide the jig to the next location, align and drill. No need to clamp the jig or tighten knobs.

Attach the doweling jig's adjustable end-stop for drilling two or three precisely spaced end-grain holes for alignment of face frame stiles and rails. The handy inch/millimeter scale lets you accurately set the stop. What could be easier.

The second alignment feature lets you drill a series of equally spaced holes along the edge of aboard. Just drop the supplied pin in the dowel bar, insert the pin in a hole and continue drilling. The MT Doweling Jig comes with six stainless steel drill guide-bushings; three sized for 1/4" and three for 3/8" drill bit.
Specifications:
Color: Red, Blue.
Size:

24 x 10x 2.5 cm.

Material: 6150 industrial aluminum alloy.
Package Include:
1 x Positioning Fixture 6/8/10MM Drilling Tool.

3 x Positioning Pin.

9 X

Drill Bush.
Notes:
Due to the different monitor and light effect, the actual color of the item might be slightly different from the color showed on the pictures.