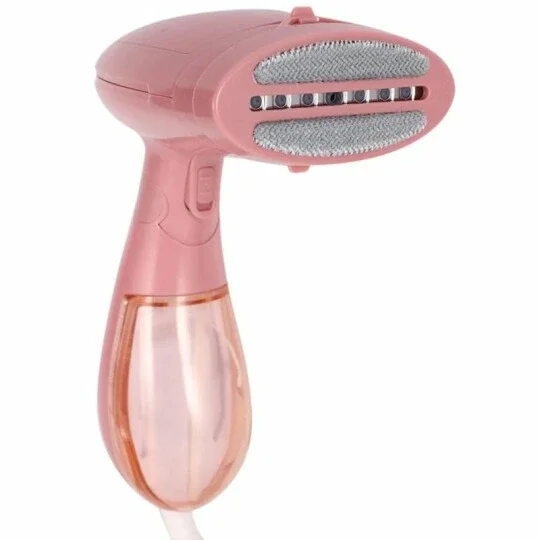 Do you have such troubles and feel that your space is messy? Not easy to clean up. Maybe you need such an ironing machine to quickly clean up space!
Usage method:
1. Connect the power supply, the power indicator lights start to flicker, the heating body begins to heat, until the indicator lights out, you can use.
2. In the course of operation, the steam button is pressed and loosened rhythmically every 2 seconds, and a large amount of continuous high temperature and high pressure steam can be produced from the front nozzle.
3. The switch also has automatic gear, which can automatically spray continuously.
Specifications:
Power length:1.65 meters, full copper power cord.
Voltage: 120V-220V
Product power: 1300W/50-60Hz
Water tank capacity: 120ml
Heating mode: electricheating type.
Product weight: 620g
Plug Type:EU Plug,US Plug,UK Plug,AU Plug
colour: pink
Material: ABS
size: 25*15cm
Package Contents:
1*Handheld Steamer
1*Measuring cup
1. Connecting the power supply, it can produce continuous, high temperature and high pressure steam in two minutes. It is very suitable for household cleaning and ironing clothes.
2. Ironing: high-temperature strong steam can easily ironing clothes, curtains, sheets, pillowcases, etc., in particular, the need for vertical ironing clothes (such as suits, etc.), more suitable for ironing with this product, the product is equipped with an ironing brush, in addition to ironing, but also sterilization of clothes and removal of odors.
3. Sterilization: high temperature and strong steam can kill a variety of harmful bacteria quickly and ensure the cleanliness of household.
4.Cleaning: High temperature and strong steam can easily dissolve and strip the oil stains, dirt and mold spots on the surface and cracks of household products. The product is also equipped with brush, window brush head, in the ejection of high-temperature steam at the same time, can scrub the surface of objects, clean simple and quick, the effect is remarkable.
5.Water tank separation: easy dismantling and water adding, is a reduced version of vertical hanging steamer machine, which is very ular in the market.
Note:
The faster the press, the temporary increase in steam volume, but the relatively lower brush temperature, may make the brush steam insufficient.
Especially in ironing clothes, it is more appropriate to use slow pressure out steam, to ensure the production of high temperature steam, so that it is easier to iron clothes.
It is a normal phenomenon that the body will get fever during the work. This product is equipped with over temperature protector. It is safe and reliable.