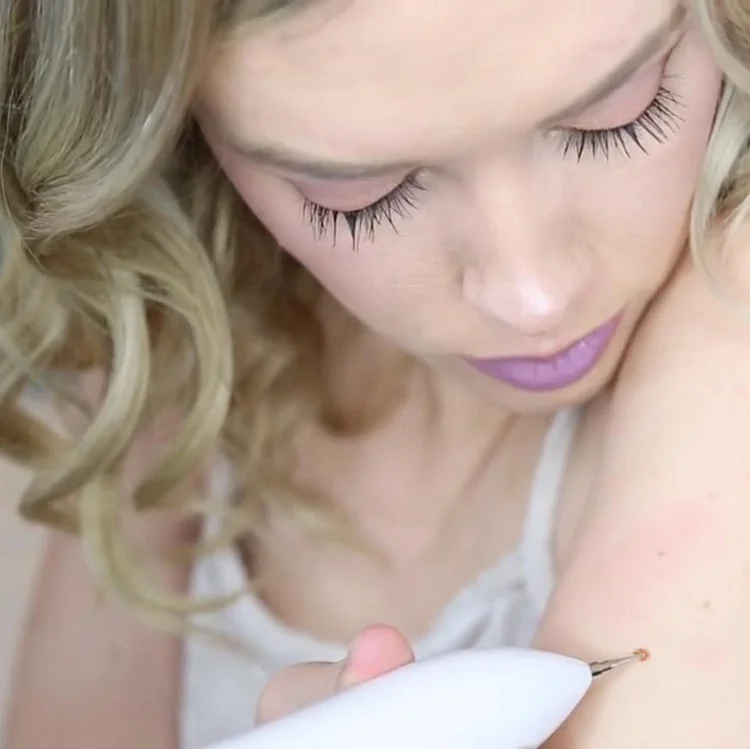 Features:
The 9 in 1 Blemish Clearer
Material: Stainless steel
Comes with 9 adjustment gears
Removes all kinds of moles, tags, freckles
2200 mAh battery to give super long power
Friendly to sensitive skin
Can be recharged via USB Cable
Description
The innovative Plasma Pen Skin Tag & Mole Remover is the newest generation of Nano-Needle products. This needle will work directly on the affected area of skin to immediately produce a low-temperature, high-frequency plasma.

After cleansing both the affected area and the needle with alcohol, simply adjust the Plasma Pen to a suitable mode level for your individual needs, then gently and evenly sweep the skin blemishes you want removed. Sweep lightly to remove small skin blemishes or use a stronger sweep to remove large skin blemishes. Never pierce the skin or leave the needle in the same area for extended periods of time as this can burn your dermis layer and result in pain.

No need to pick off the scab as it will fall off naturally in just a few days.

This process will allow you to remove various unwanted elements on the skin: moles, skin tags, age spots, birthmarks, dark spots, skin pigmentation, freckles, small or thin tattoos.

This device is designed to be light and easy to use in the comfort of your own home.

The portable & rechargeable skin tag and mole remover has built-in overcharge protection. Use with any USB AC adapter. The Plasma Pen comes with a charging cord and the high capacity batteries offer 5 hours of run time when fully charged.

This Plasma Pen uses a new generation of plasma micro district discharge technology with low temperature and high frequency. The pen will not cause bleeding and with voltage stability and easy to manipulate design it is perfectly safe for home use.

You're sure to LOVE the convenience of being able to remove your moles in the privacy of your own home and on your own time without having to spend a fortune every time you go to the dermatologist!