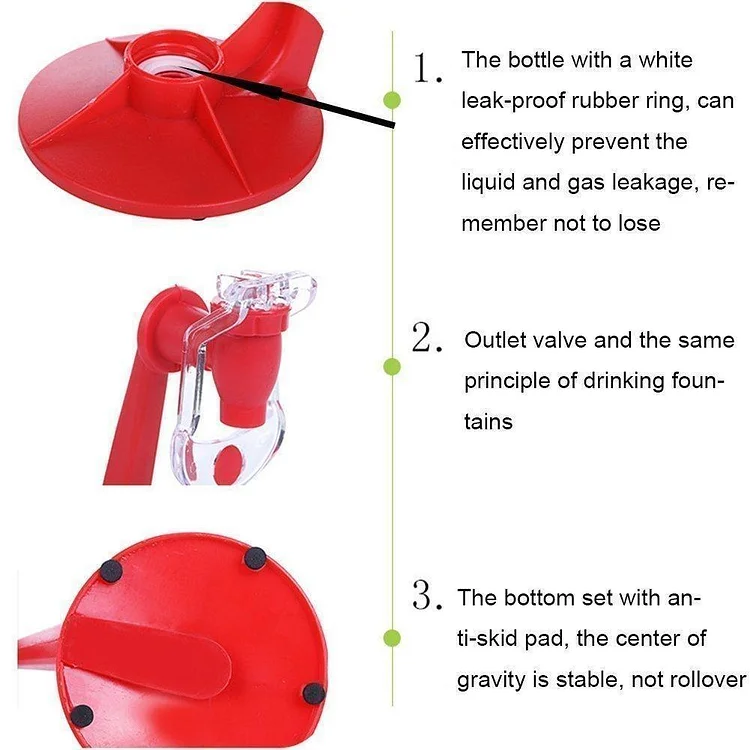 Features:
Keeps your party soda drinks fresh and easily accessible
Invert the bottles in the dispenser and that's it
Anti-skid pad prevents dislocation
Easy-to-use tap design
Put it on counters or even in refrigerators
Durable plastic fabrication
Suitable for 1-2 liter soda bottles
Make serving easy and quick
Description
What party or family get together would be complete without fresh, fizzy sodas? Introducing the new Party Soda Dispenser. Everyone knows that sodas sometimes fall flat, but with our Party Soda Dispenser there's no need to worry about stale, unpalatable soft drinks any longer. This dispenser keeps your sodas fresh and fizzy, longer!

To use, simply replace the cap of any 1 or 2-liter soda bottle with this cool device, then turn the bottle upside down and serve! Buy one (or more) now and you'll get to see this soda dispenser in action for yourself at your next party. Rest assured, your guests will totally LOVE the crisp taste of freshness!
Simple design & mechanism - Super Easy To Use
Not bulky or heavy - Bring it anywhere; picnics, parties, weddings, family reunions, wherever you need your carbonated beverages to stay fresh longer.
Replaces the cap to keep beverage sealed and fresh
No power or electricity needed - Uses gravity & the soda's own carbonation to dispense