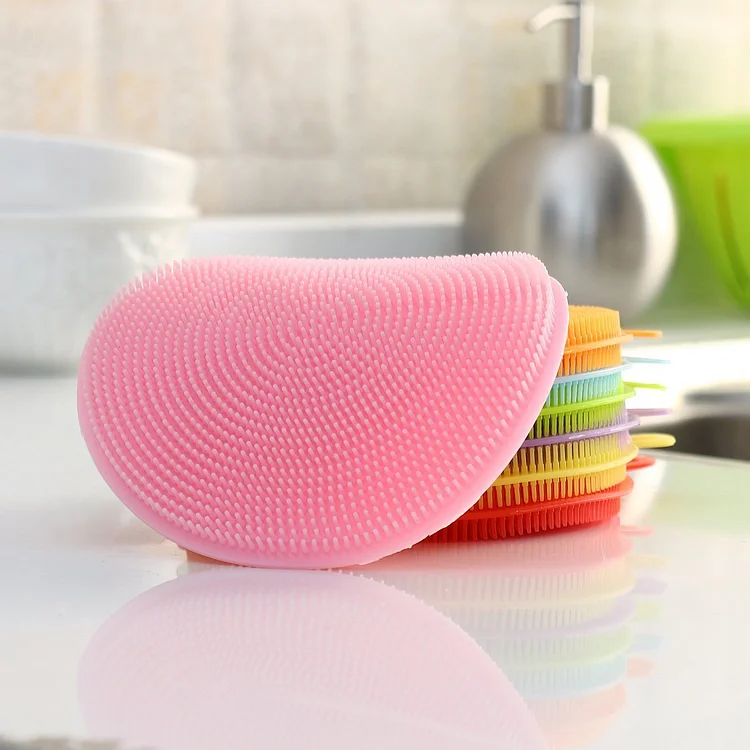 Features:
Above 5000 silicone bristles clean every dish completely
Durable and long-lasting, unlike other sponges
Never scratches the surface of the cookware
Bacteria resistant
Attachment options: suction cup or hook hole
Heat-resistant; hold hot pots and lids safely with it
Available in 7 colors
Description
This Multipurpose Anti-Bacterial Sponge has over 5,000 silicone bristles to clean dishes and other surfaces smoothly and effectively. Compared to a traditional sponge, this non-porous silicone sponge dries faster and won't harbor bacteria! Better for the environment, this fun and flexible scrubber will stand the test of time. Say goodbye to your smelly kitchen sponge once and for all!
Made of flexible, durable silicone
Non-abrasive and gentle, so it never scratches
Strong enough to clean up tough, baked-on foods
Bends and flexes to reach deep inside glasses and corners
Bacteria and mildew resistant
Versatile design can also be used as a heat resistant pot holder and features non-slip grip for handling stubborn lids, removing pet hair from furniture and more
Easily rinses clean and is also dishwasher safe
Built-in suction cup allows you to hang sponge in your sink for quick drying
No more smelly sponges!
Lasts longer than your typical sponge
Safe to use on non-stick cookware and all other kitchen surfaces
Choose from Blue, Orange, Green, Red, Yellow, Purple or Pink