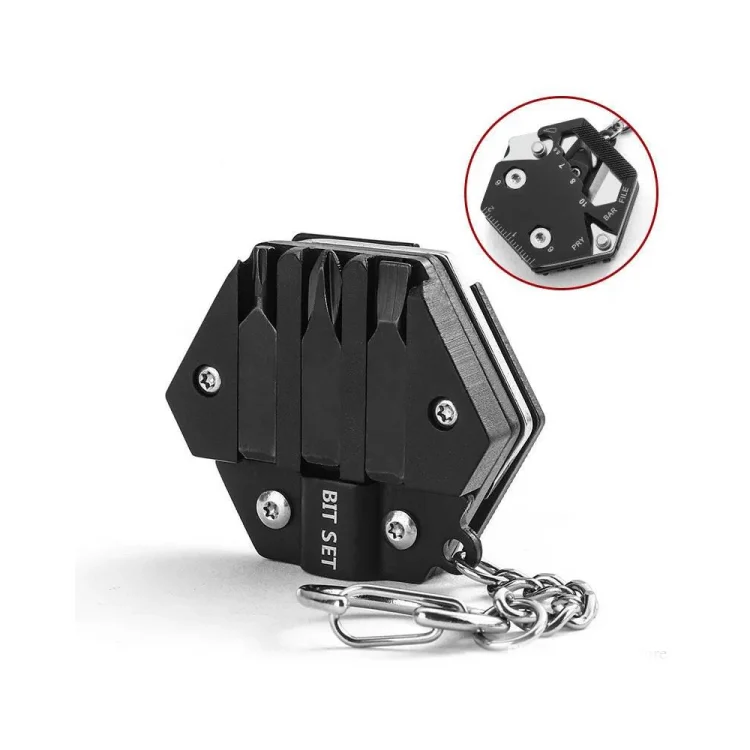 Features:
420 stainless steel + plastic constructin
Has screwdrivers, wrench, knife, bottle opener, etc.
Ideal holiday gift for your loved ones
Description
No, no no, don't call it a key chain. Call it a little master that can do 14 tasks besides serving as your keychain. Astonishing, isn't it? Yes, a complete toolbox has been integrated into this hexagonal keychain with everything – from a screwdriver to a nail filer. It performs tasks that you come across daily like cutting, opening, filing, unscrewing, etc.
What you'll get:
One tool but 14 functionalities: It's not just a keychain. Instead, it's a combination of 14 different tools including a ruler, string cutter, can opener, nail puller, wrench, mini file, folding knife, screwdriver, strong magnet and much more.
Lightweight and small: Despite having 14 different functionalities, this hexagonal EDC multitool is not heavy to carry and has an approximate width of 4.5cm.
A perfect outdoor partner: This tool can be your best partner during any outdoor activity, like hunting, camping, skating, fishing, ice climbing, skiing for opening beer cans, tightening any loose screw, cutting strings or ropes, food cutting, etc.
A gentleman's choice: A gentleman's style speaks with the things he uses like lighter, keychain, etc. And this is one such pocket tool that shows your style.
A stylish gift for men: Men love tools, and this multifunctional keychain is one such gift that your husband, dad, brother or boyfriend would love to have.