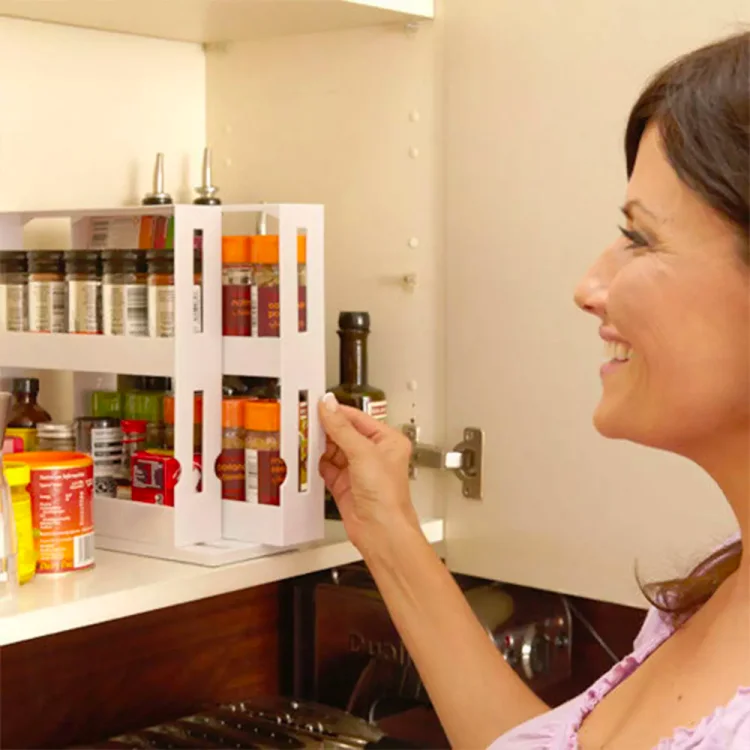 Features:
2-compartment rotating storage shelf
Pull and rotate
Organizes spices and pill bottles neatly
Increases the effective space of your kitchen closets
Non-skid suction feet & adhesive tape
Description
Welcome the latest kitchen spices decluttering gadget! Organize all your spices, pills, jams, etc. in this rotating storage rack to save ample space and time invested in searching the required bottle. It is as easy to set up as it is to use and remove. Increase the effective space of your kitchen cabinets and cupboards by 2-3 times with this smart gadget.
What you will get:
Instant access to the spices: Saves a lot of time when searching and locating for the required bottle of spice or anything else. The rack sorts everything in the perfect order.
No clutter: No heaps of mess in the kitchen cupboard now. A clean, efficient way of arranging your kitchen cupboards.
Non-skid feet: The 2-compartment rotating shelf contains suction feet that attach to any surface like metal, wood, and tiles. Also includes the option of adhesive strip tape.
Dedicated holding space: To increase the convenience, it includes holding spaces so that it can be pulled out, rotated, and retrieved with maximum ease.
More storage: The multistoried space can hold almost 20 bottles at one time. Takes minimum space.
Washable plastic: Clean the plastic rack anytime by removing it from the closet.
Dimensions: The width of each compartment is 5 cm. The length of the upper story is 4 inches, and the lower story is 5.25 inches.