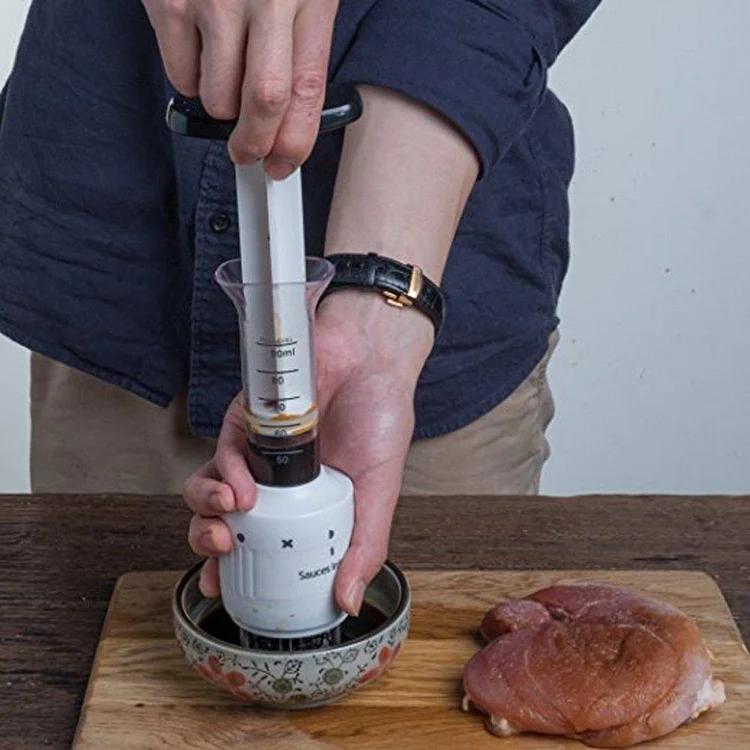 Features:
Made of strong 304 stainless steel & high-quality plastic
Works as injection & ensures well-penetration of all flavors
Easy to use; fill -> inject -> let flavor penetrate
Gadget comes with plunger, 30 pins, 3 solid cylinders
Reported to reduce up to 40% cooking time
Easy to assemble/disassemble, clean, and store
Suitable to tender all types of meats
Use your imagination to make it work with veggies
Description
The Meat Tenderizer Marinade Tool ensures that you'll never have to settle for dry or bland food again! With its practical and functional design, this marinade tool penetrates deep into your cut of meat to deliver optimum flavor infusion throughout!
The built-in plunger injects flavorful marinade into the meat via three needle-like applicators, quickly saturating the interior of your food with flavor enhancing ingredients. Twenty seven stainless steel blades sever through tough connective tissue, softening the meat in the process. The marinade tool holds up to 3 oz. of marinade (enough to flavor 2 lbs. of flank steak) and the tenderizing blades have two depth settings for optimal penetration of thick roasts or steaks. Unlike traditional tenderizing mallets this meat tenderizer won't alter the meat's thickness. The unit disassembles quickly for easy cleaning in the top rack of a dishwasher. It also locks, with the blades inside and has a cover for safe storage.
Material: The Meat Tenderizer Marinade Tool is made of strong 304 stainless steel and high-quality plastic. If properly maintained, this product will last for years!
Safety: Flavor injector is easily disassembled and cleaned, for repeated use. The meat tenderizer needles feature a safety lock.
Wide Variety of Uses: Perfect for intensifying the flavor of roasts, steaks, chops, brisket, pork, chicken and more! The needles puncture any meat or poultry with ease, ensuring that even the toughest or thickest cuts are enriched with taste!
Convenient: Enjoy deeper and quicker penetration of marinades, up to 40% reduced cooking time and even-cooking throughout, including chicken and other meats with uneven thicknesses.