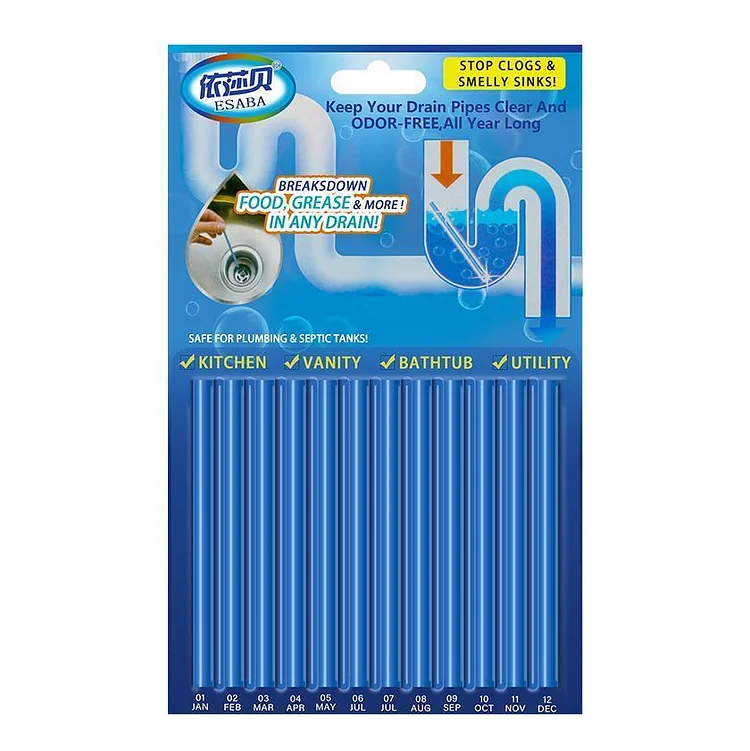 Features:
12 easy drain sticks in one package
Made with powerful, odorless & 100 % safe enzymes
One-time use gives one-month clog-free pipes
12 sticks are enough & stay for a whole year
Description
Dissolve and liquefy food, grease, soap, scum, sludge and other organic matter that tend to clog drain lines.
Drop a
Magic Drain Cleaner Stick
down your drain once a month to safely and effectively clear blockages and kill bad odors at their source. Made of powerful enzymes, the stick rests in the drain and slowly dissolves to break down and dispose of deposits and greasy build-ups, keeping the water flowing and your pipes clean. These drain cleaner sticks are 100% safe to use in all sink, tub and shower drains and are even beneficial to septic tanks.
The unscented formula keeps your drains smelling naturally fresh and odor free. Use these drain cleaning sticks as part of your cleaning routine and drain maintenance using just one drain cleaner stick per month. Pack includes 12 sticks (a year worth).