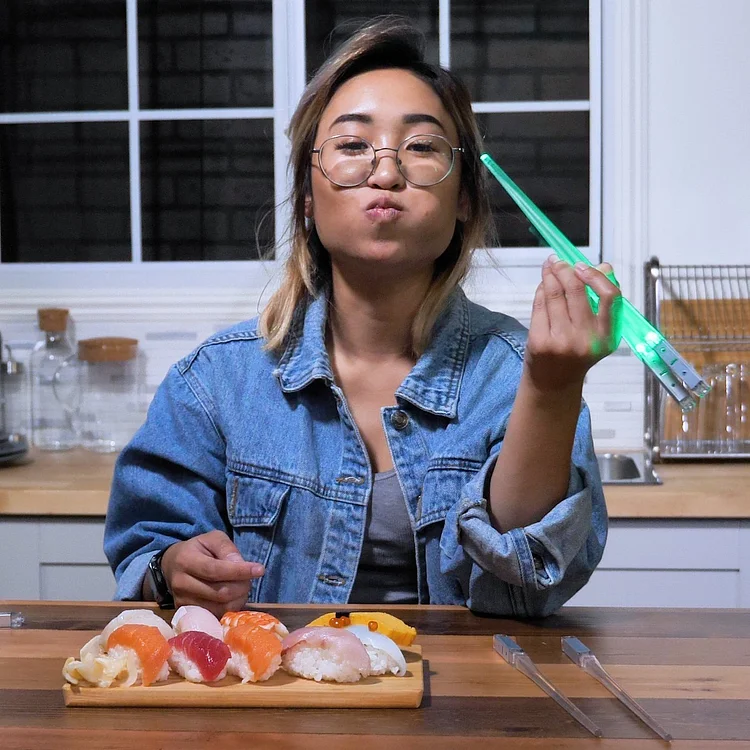 Features:
Enlighten your every bite
Colors: Blue, red, or green
Supports LED lights, 3 x Lithium batteries (included)
FDA approved, BPA-free & Food safe
Material: ABS Plastic
Length: 10.25"
Operatable touch button
Description
Hungry you are?
Then eat with these chopsticks you should!
These illuminated chopsticks are uber-cool!
If you enjoy eating your sushi, fried rice or noodles with chopsticks, but you're tired of using the same old boring bamboo ones. Then, you are about to meet your sushi-eating destiny! These unique chopsticks are so colorful and so much fun, your friends are going to be green with envy! Make every meal glow with color and light. Whether you're eating Chinese, Japanese, Thai or Vietnamese, these sleek, plastic, LED Laser Sword Chopsticks, turn any meal into an impressive light show!
The Force that makes them glow are the 3 x Lithium batteries (included). With the press of a button, your lightsaber chopsticks can turn your meals into an epic battle! They also come in a variety of glowing colors.
Length: 10.25"
Easy to operate: Button Touch
Food Safe: FDA-Approved, BPA-Free, ABS Plastic
Colors: Choose from Blue, Green or Red

They're a must have for any movie enthusiast and would make the ideal gift for the sci-fi lovers in your life!