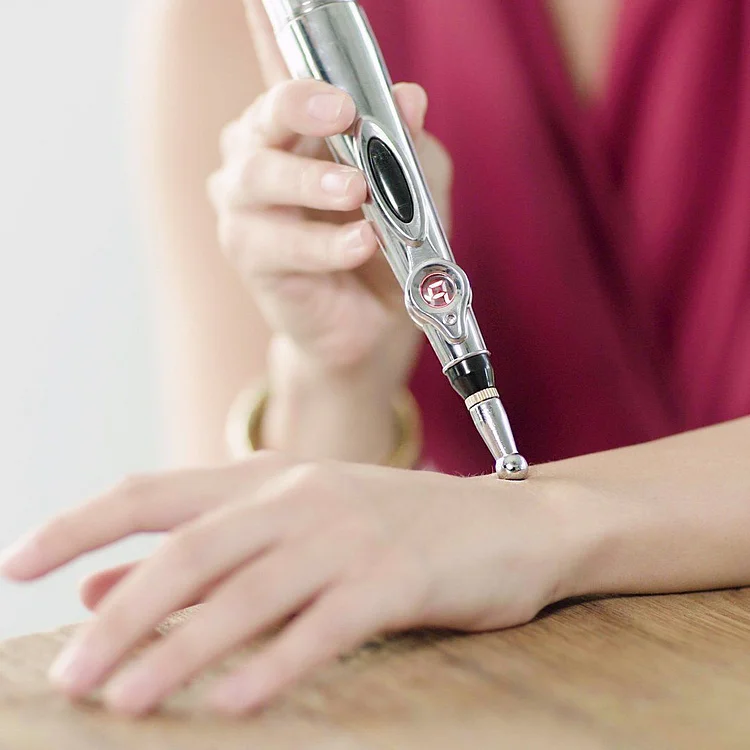 Features:
Treats body aches and pains without any needles
Uses acupuncture-type sensation to activate tissues
Can be used while traveling and during office hours
Lightweight and easy to use with digital display
Shockproof with no side effects
Description
With this Electronic Acupuncture Pen, you can treat your body aches and pains without any needles. The pen delivers a needleless, acupuncture-type sensation using the electric pulse (0-9) to activate tissues, provide firmness to sagging and aging skin. It promotes healthy blood circulation, detoxes the meridians, and reduces muscular pains.
Features:
Needleless operation: No needleless or skin piercing involved. Simply press the device to the affected area like your neck, knee, elbow, and it will release an electric pulse to stimulate the meridian and acupuncture points in your body for pain relief.
Easy-to-use: The Electronic Acupuncture Pen only needs one AA Battery (not included) to work. It has a digital display for the current strengths ranging from 0 to 9. Press the dial to increase or decrease the intensity of the electric pulse.
Shock-proof: Unlike other low-quality acupuncture pens, it does not give a shock to your body. It is recommended to start with the lowest intensity so that you can adhere to the sensation and shift to the higher rating slowly.
2-special function heads: The Dome Head of the Electronic Acupuncture Pen is for superficial therapy, applicable for beautification and health care while the Spheroidal Head is for partial therapy.
Applicable for: Great and effective for bulging disks, migraine, arthritis pains, rheumatism, osteoporosis, joint and muscular pains, and fibromyalgia.
No side effects: Unlike medicated painkillers, the Pen has no side effects and is convenient in treating chronic and acute pains.
Portable: The Electric Acupuncture Pen is lightweight and fits easily in the pocket, bag, or pouch. Use it while traveling or during office hours.
* If you have a pacemaker, use of this product is not recommended!