LED-lighted desktop aquarium has two synthetic jellyfish that provide mesmerizing ambiance, just like their real counterparts.
The aquarium has 18 LEDs (six each of red, blue, and green) that automatically change color, causing both jellyfish to "react" by glowing yellow, purple, aquamarine, blue, and red as they float within gentle currents generated by the unit's silent, integrated motor.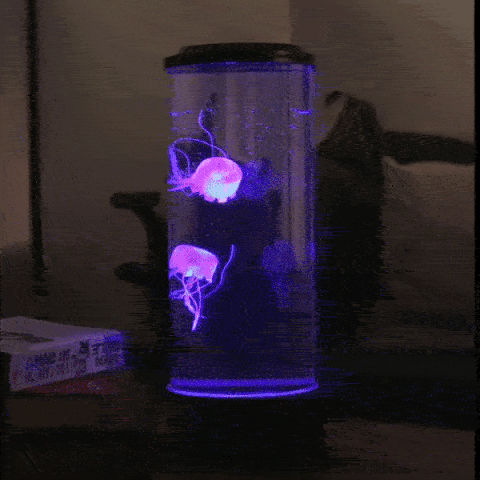 Manual color selection enables one color display. Set upon a bookshelf, tabletop, or desk, the aquarium plugs via USB or 3 AA batteries; automatically turns off after four hours. You receive 2 silicone jellyfish in each order.
The quiet movement of realistic lifelike Jellyfish in the tank with fascinating color changing lights creates a beautiful Tranquil, peaceful & soothing deep-sea ambiance which can help reduce stress & anxiety. Improves mood & well-being.
Makes an excellent gift for anyone who loves sea life or simply wants to make a unique design statement. Great for Christmas, Holidays, Parties, Home Offices, Bedrooms or Living Rooms. Easy to set up.
What's in the box:
Jellyfish Aquarium
2 Silicone Jellyfish
USB Power Cable
User Manual