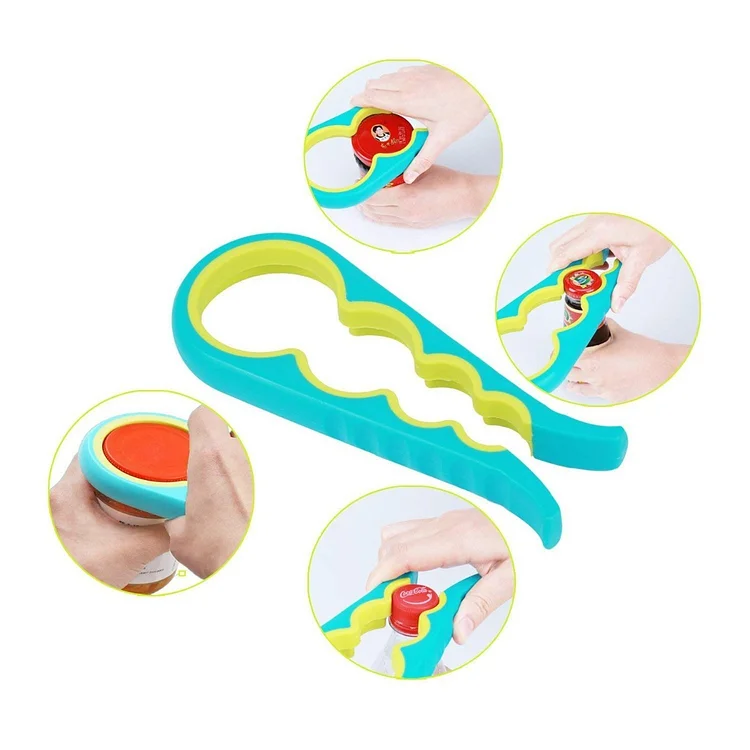 Features:
Material: Rubber, Silicone
Four universal openings that can open jars, bottles, containers
Saves time & requires little effort
Great for people with Arthritis & joint pains
Carry it in RV, van or your bags
Place, squeeze and turn
Description
You'll Never Need Someone Else To Help You Open A Jar Again!

This innovative, Jar & Bottle Opener is the perfect kitchen utensil for seniors or anyone who suffers with arthritic hands. Featuring four integrated sizes, this easy to use, Jar & Bottle Opener can be used to open anything, from those hard to grip soda caps, to the large, cumbersome lids of a pickle jar.

Designed to be durable, easy to use and easy to clean, the Jar & Bottle Opener also makes an ideal gift for friends or family members! You can rest assured, they'll appreciate your thoughtfulness and think of you every time they easily loosen the lid to a once 'impossible to open' jar!

How to use? Decide which gauge is the correct size circle grip for your jar lid size. Place the circle grip around the lid and squeeze, then turn and twist to break the factory seal and pop the lid off. It's that easy!
REDUCES ARTHRITIS PAIN- Our Jar & Bottle Opener was created to be the perfect can opener. The ergonomic design helps reduce strain and stress on painful joints so you can open bottles and jars, with caps and lids, quickly and easily.
OPEN DIFFICULT JARS WITH EASE- Four sizes of circular openings provide a secure grip for a wider variety of containers.
COMFORTABLE & EASY TO USE- Our jar openers are created with a functional design, particularly for arthritic hands or seniors who have trouble opening bottles or jars. That's why they feature an ergonomic, easy-to-use design, made for hands that don't have a strong grip.
VERSATILE, COMPACT & LIGHTWEIGHT- Definitely the best jar opener! Lightweight and small enough to fit in the palm your hand, the Jar & Bottle Opener is the perfect kitchen utensil, but it can also come in quite handy while camping, or traveling in an RV.
SLIPS NEATLY IN THE CUTLERY DRAWER WHEN NOT IN USE-This rubber jar opener takes up very little space and the silicone lining is easy to clean!