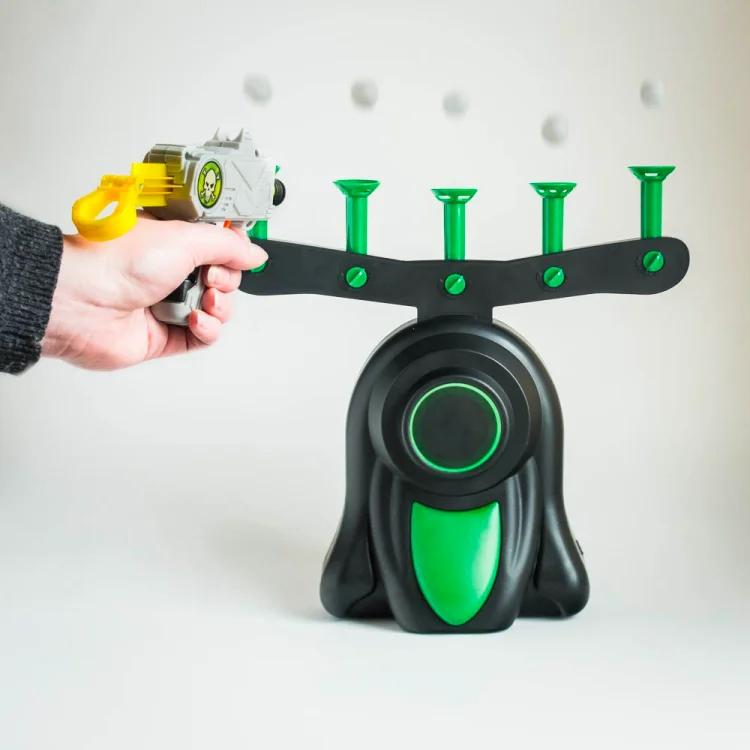 Features:
Made of high-quality flexible plastic
Easy to use and operates with one button
Works with AAA batteries (not included)
You get a complete 7-piece set in one order
Equally enjoyable for adults, kids, & the whole family
Easy-to-hold gun and accessible targets in floating air
Lightweight, easy to carry
Description
Floating Ball Shooting Game is a hover shot game that involves shooting ping pong balls with a gun. It is made with top-notch plastic material offering a target, bombs, balls, fixers, and a two-way power system. Use batteries to power it and turn on the wind to see balls floating in the air. Balls and bombs are made of soft rubber so that they are not harmful if they come in contact with a person. You can improve your shooting skills by firing from a range of 10-12m.
What you will get:
Gun and Bombs: You can hold the gun with a firm grip and load 5 bombs in it at one time.
Easy to operate suspension target: Suspension target blows wind helping targets to float.
Environment-friendly and safe shooting: No one gets hurt during the game as the bombs are made of soft rubber yet does not irritate the skin.
One button usage: You can use only one button to adjust the wind speed and targets flow.
Work with batteries: You can use the battery cells for outdoor shooting experience.
Different wind speed for different targets: The hover shot floating target game comes with separate buttons for all fans to adjust the wind speed from high to low and vice