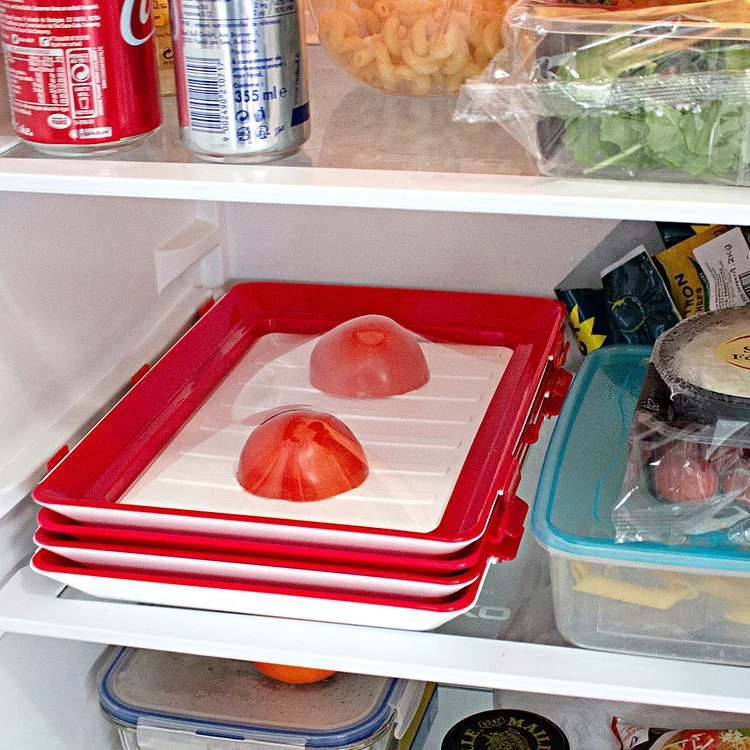 Features:
Store meat, cheese, fruits and vegetables
Durable, air-tight and puncture-resistant seal
Easy to store in fridge
Dishwasher safe
Available in a set of 2 and 4
Description
The average American Family uses 24 rolls of shrink wrap per year. That's roughly, two boxes of shrink wrap, ranging from three to five dollars each, per month, which adds up to around $90 per year! STOP throwing your money away, literally!
We all love fresh food, but those brownish leftovers?... Not so much. With this innovative Food Preservation Tray, your leftover food stays fresh for days. The resistant film lid releases air from the tray after it's filled, keeping its contents fresher, longer. To use the Food Preservation Tray, simply place your leftovers on the tray, cover, release the air and lock the tray until you're ready to serve.
Save money and reduce the amount of waste you produce! No more wrapping your food with shrink wrap and toxic aluminum! This ingenious, space-saving, food preserving tray is safe, durable, and Eco-friendly.

Foods such as meat, cheese, fish, fruits, etc. are perfectly covered by the ultra-resistant film in the lid and sealed in seconds. Finally, no open packaging or unpleasant odors in the fridge.
Features:
Airtight seal keeps your food fresh and prevents browning.
Doubles as a serving tray
Made of odor-proof, stain-resistant, BPA-free, elastic film
Dishwasher safe
100% leak-proof
Stackable, for optimal pantry or fridge organization