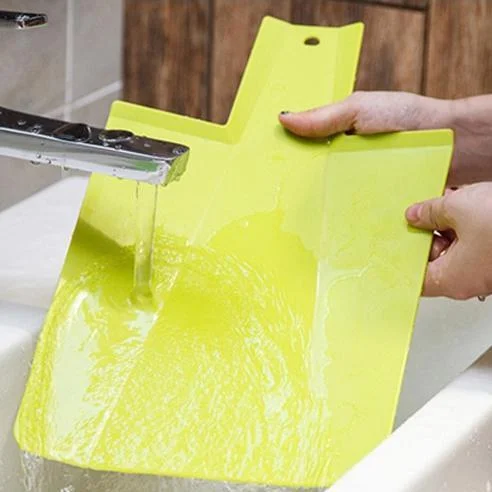 Features:
Made of BPA-free material
Cut & add stuff in the cooking pot easily
90° foldable from both sides
Works as shovel
No more dropped, spilled, or wasted food
Space-saving
Dishwasher safe
Description
The ingenious, 2 in 1, Folding Cutting Board serves as both a cutting board and a scoop, at the same time. Use this handy kitchen gadget as a cutting board, to cut and slice all of your ingredients on, then simply grip the handle and scoop them up! There's no hassle and no more messes, as your veggies and herbs are quickly and easily scooped up! This ingenious cutting board is a real life saver!
Eco-friendly and innovative, this durable board lies flat to provide an easy cutting surface for any kind of food prep. Once you've sliced, cut or chopped, simply squeeze the handle to make the sides of the board fold up and you've got a handy chute to pour all of your prepared foods down, into a waiting pot or strainer. No more dropped, spilled, or wasted food!
The non-slip bottom keeps the board safely and securely in place while in use and the smart design of the comfort-grip handle ensures that the board will lay flat while preparing veggies, meats and more! With a hole in the handle, this board is perfectly designed for space-saving storage, simply hang it on the wall, and out of the way when not in use!
The Folding Cutting Board is BPA Free and Dishwasher safe.
Measures 15" x 8" x .85"