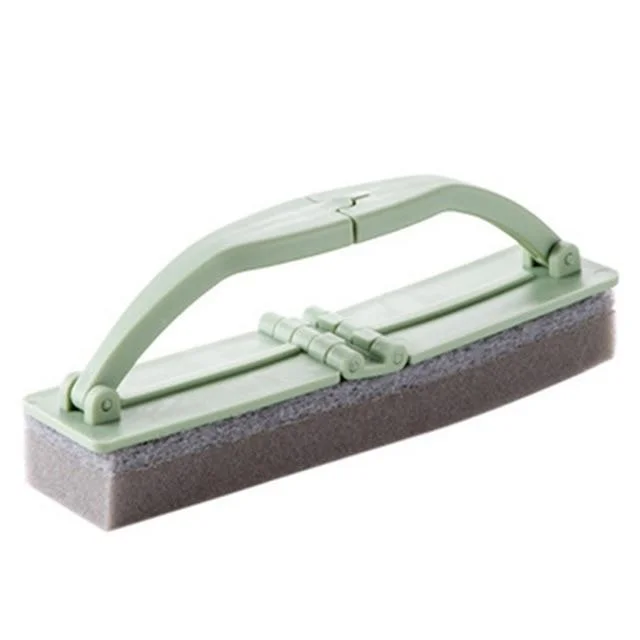 Features:
Best for irregular shapes & areas
Adjustably folds from the middle to clean surfaces
Comes with an ergonomic handle
Lightweight, easy-to-hold, durable
Material: High-quality special fiber & PP handle
Color (s): Blue, Mint & Pink
Length: 8.9 inches (22.5cm)
Width: 3.1 inches (7.7cm)
Description
Anyone who's ever struggled to clean irregularly shaped surfaces- think; baseboards, windows, sinks, faucets, even toilets and more, will immediately appreciate the genius that is- the Foldable Sponge Brush! It folds in the middle to make cleaning edges a breeze!
This foldable sponge makes tackling these tough cleaning chores so much easier and the lightweight design and ergonomic handle mean it's easy to hold and use. Strong and durable, it glides smoothly over flat or irregular surfaces to quickly clean large areas, but the soft sponge cleaning pad is gentle enough for all surfaces and won't scratch paint. Use it around the home, in the kitchen or bathroom to clean; glass, ceramic tile, floors, walls and so much more.
High-quality, foldable, thicken, soft sponge, effectively removes stubborn stains and is suitable for glass, ceramic tile, floor, wall surface cleaning, PP handle.
Handle snap design for easy opening and folding
Squeeze water from the sponge without direct contact, so your hands stay clean.
Length: 8.9 inch (22.5cm)
Width: 3.1 inch (7.7cm)
Choose from Pink, Mint or Blue