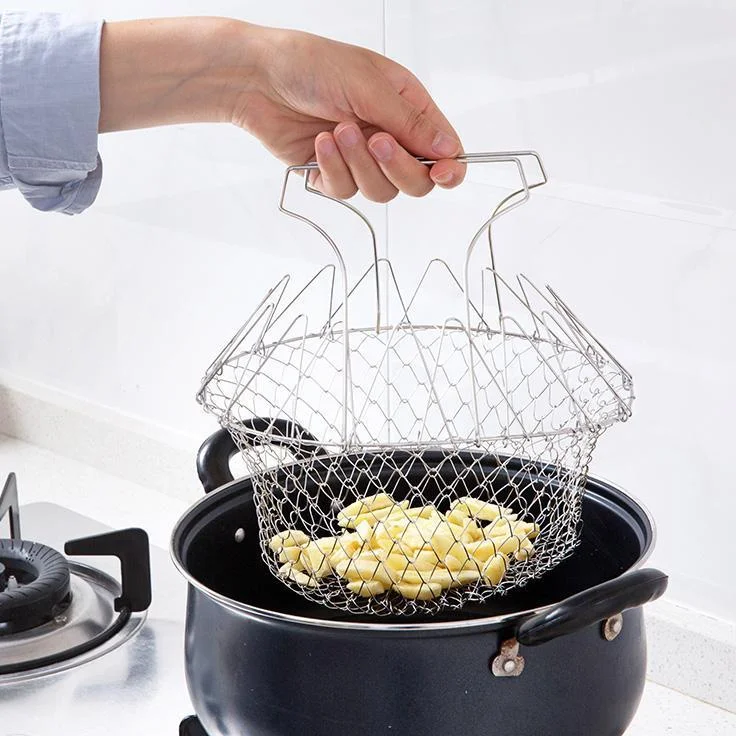 Features:
Made with food-safe stainless steel
Use it to rinse food clean, and strain fried meals
Collapsible design, for easy rinse and holds
Folds and store easily in less space
A handy tool for every kitchen lover
Description
The 4-in-1 collapsible chef basket is a smart kitchen utensil that makes steaming, draining, rinsing, and frying a breeze. The sturdy and convertible construction of the stainless-steel frame allows you to switch from one function to another easily. The basket folds flat for easy storage but instantly expands to a flexible basket that transforms itself for dozens of everyday uses.
Features:
Material: Made of food-safe stainless steel, the mesh/net basket will not rust. It has sturdy construction with no sharp, pointy edges or loose connectors.
Use like a colander: Execute the chef basket to clean your fruits and vegetables. Just put the contents in the basket and wash them. The water drains easily.
Use like a steamer: Place potatoes, pasta or eggs inside the mesh basket and steam it in water. The holding handle stay cool to the touch.
Use like a deep fryer: Fry chicken, fish, and French fries comfortably
Easy storage: Foldable configuration of this Basket allows for easy and smart storage in cupboards and cabinets.