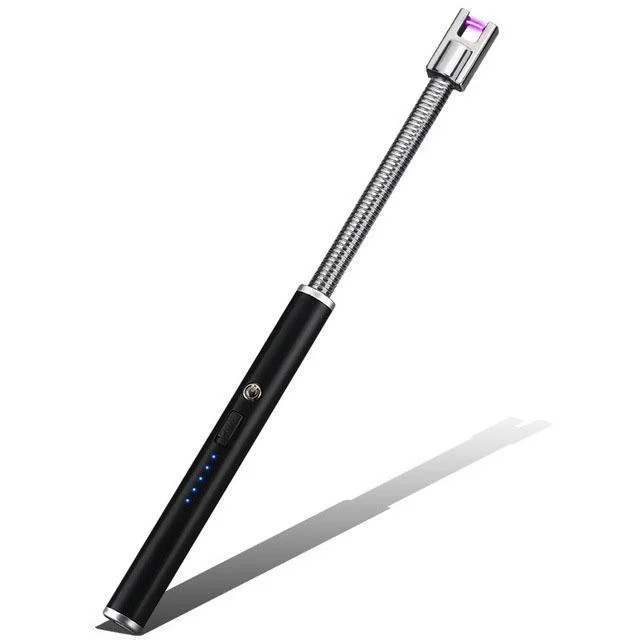 Features:
The bendable end can be used to ignite fire at tough angles
Windproof property; use in speedy gales of wind
Light candles, incense holders, wood, fabric, etc
Turns off after 10 seconds automatically
Runs 500 times on a single charge (charge indication lights present)
Child lock on the device
USB Rechargeable battery
Available in 4 color options
Description
The Flexible Electric USB Lighter is a Rechargeable Electric Lighter that requires no flame, no butane and no hassle! Safe and practical, the Li-ion battery can be ignited more than 500 times when fully charged. The long, adjustable neck can be rotated 360° degrees, making it easy to reach into deep openings, while the ergonomic design ensures a comfortable grip. This lighter is perfectly suitable for both indoor and outdoor use. It's compact size makes it easy to carry and it's perfectly suited for camping, BBQ, candles, etc.
Features:
USB Rechargeable Design- Lighter can be charged by connecting to any device with a USB port.
Windproof Design- No gas or fuel required, easy to use. You could light up in a hurricane if you so choose!
Ergonomic Design and Anti-Slip Handle- Lighter is comfortable to grip and with the Quick Lighting Technology there's no more fumbling around trying to light up.
Absolutely Safe- Lighter will automatically power off after 10 seconds when not in use.
Stylish Design and Delicate Appearance- Don't let the delicate design fool you, these lighters are made of good quality material, which means they're sturdy and not easily damaged.
Compact Size- This lighter is easy to carry and is perfectly suited for camping, BBQ, candles, fireworks and more. It's suitable for both indoor and outdoor use.
Safe & Durable- Lighter features a safety-lock with child-proof on/off-switch.