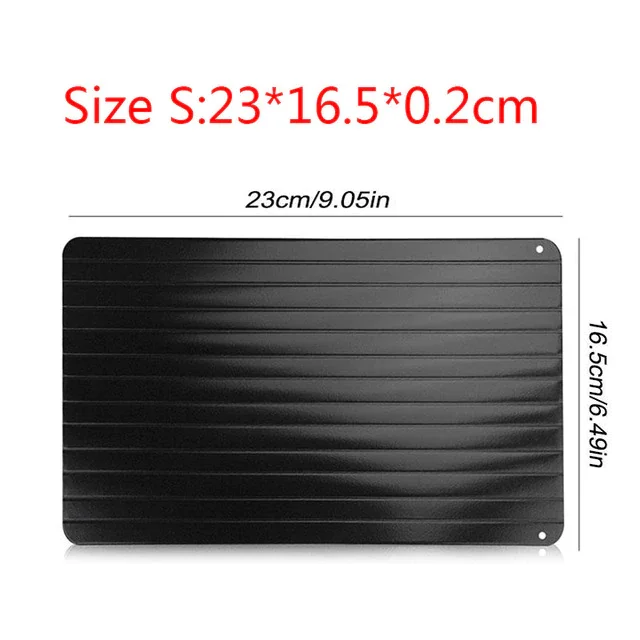 Specification:
Material: Aluminum
Size:
S:23X16.5X0.2cm
M:29.5X20.5X0.2cm
L:35X20.5X0.2cm
S:23X16.5X0.2cm with corners
M:29.5X20.5X0.2cm with corners
L:35X20.5X0.2cm with corners
The corners are random color(Not only green,maybe red,yellow etc.)
Through the contact of food with thawing plates using special environmentally friendly materials and processes, frozen foods are quickly thawed
Easy to clean! The special process makes the thawing plate easy to clean, non-stick oil
Easy to use, saving electricity and environmental protection! No need for other investment, save water and electricity
Principle: The thawing plate is a special alloy with a thermal conductivity of 20,000 times that of ordinary metals, achieving high-speed heat exchange, allowing frozen foods to achieve the fastest natural thawing effect
Advantages: speed, short time, can effectively save the first choice time, and can maintain the original taste and nutrition of food, health and hygiene. Corrosion resistance, long service life
Disadvantages: Due to the use of special environmental protection materials, the price will be slightly higher
Thaw plate - thawing plate compared with other thawing methods
The thawing speed using the quick thawing plate is 5.6 times the thawing speed of the common ceramic ware.
Note: The ceramic wares are thawed for approximately 91 minutes, and the rapid thawing plate is thawed for approximately 16 minutes
By thawing the rapid thawing plate, nutrition and gravy can be firmly locked in the meat, reducing the overflow of juice when the food is thawed, and retaining its deliciousness
Defrost frozen food within minutes - Thaw chicken breasts, steak, pork chops, lamb chops and more within 30-60 minutes depending on thickness
Defrost smaller food such as burgers, sausages, prawns and bacon even faster!
Absolutely no chemicals or electricity is used. As opposed to microwave ovens that partially cook the food during the defrosting process, the Tray defrosts the meat safely and quickly
The Magical Defrost tray stays cool to the touch throughout its use, no pre-heating or hot water is required. Simply place frozen food onto the tray and it will defrost up to faster than at room temperature
LARGE AND FLAT SURFACE

The large, flat surface enables you to thaw multiple items at once, eliminating the hassle of water baths or rotating through a microwave.

MEAT COOKS BETTER/SAFER

This defrosting tray is made of aluminum. Just place frozen food directly onto the tray and after thawing store food on a plate until ready to be cooked.

STORES AND CLEANS EASILY

Flat tray can slide easily into a narrow space. Can be hand washed or bottom rack dishwasher to sterilize. Measures approximately 14 inches Long x 8.1 inches wide x 0.6 inches height.