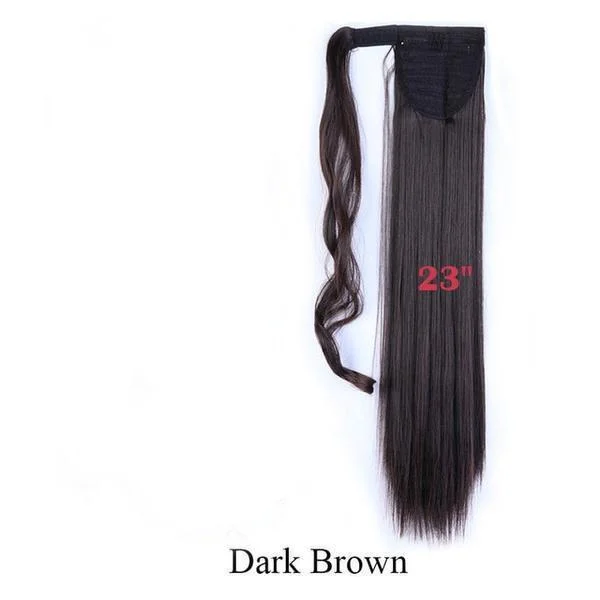 PONYTAIL EXTENSIONS | CLIP, WRAP & GO
Have you ever been bothered by hair that is less or not long enough?
Have you ever had trouble designing a hairstyle for a date or an important day?
#Come here girls, get this best clip in claw ponytail hair extension for yourself.# 
#It is time to change a glamorous new look!#
This is the quickest & easiest way to achieve the ultimate ponytail. Add instant length, volume and style to your hair in minutes.
Features:
Natural Looking: Made of high-quality synthetic fiber,highly similar to real human hair. Multiple Colors are available.You can also trim it to blend in with your own haircut. It would be good fit for your head sizes and no one realized they were fake in fact.
Transform Your Look in Seconds: Our clip in hair extensions can comfortably wrap your hair, increasing your hair volume and fullness in an instant, making you more attractive and elegant in the crowd, perfect for short-haired or thin-haired women.
Strong Hair Strand: Each hair is made of 100% natural heat-resistant fiber, so it has 100% heat resistance and does not fade that can be safely styled, toned or dyed as desired.
Super Easy To Put In And Style: The elegant ponytail extension with an easy-to-install comb with a hair band and velcro buckle eliminates the need to add heavy belts or clips.
Washable and Easy to Care: Just using a little mild shampoo in cold or warm water,finally allow it to air dry.We recommend brushing it with a wide tooth comb designed for wigs to detangle after every wear to keep it looking new.
Lightweight Design: The elegant ponytail weighs about 100 grams, which is twice as light as the iPhone. Therefore, there is no need to worry about the horsetail falling off due to weight.

Elegant And Sexy: Increasing your hair volume and fullness instantly, making you more charming and attractive. Perfect for Halloween, Thanksgiving Day, Dating, Weddings, Graduation ceremonies, Party, Birthday, Christmas, New Year and Other Event.
How To Use:
Step 1: Gather Your Hair: Gather your hair into a twist and hold firmly against your head. 
Step 2: Attach the Clip: Attached by a jaw/claw Clip over your ponytail until holding it securely in place.
Step 3: Style the Hairpiece: Stylish, Instant, Easy, a new style has been created!
Specifications:
Material: Synthetic Heat-Resistant Fiber.
Hair Length: 22 Inch straight.
Hair Weight: 3.2 Inch.
Heat Resistance: 

270-300° Fahrenheit.
Package Includes:
1 x Elegant Ponytail Extension