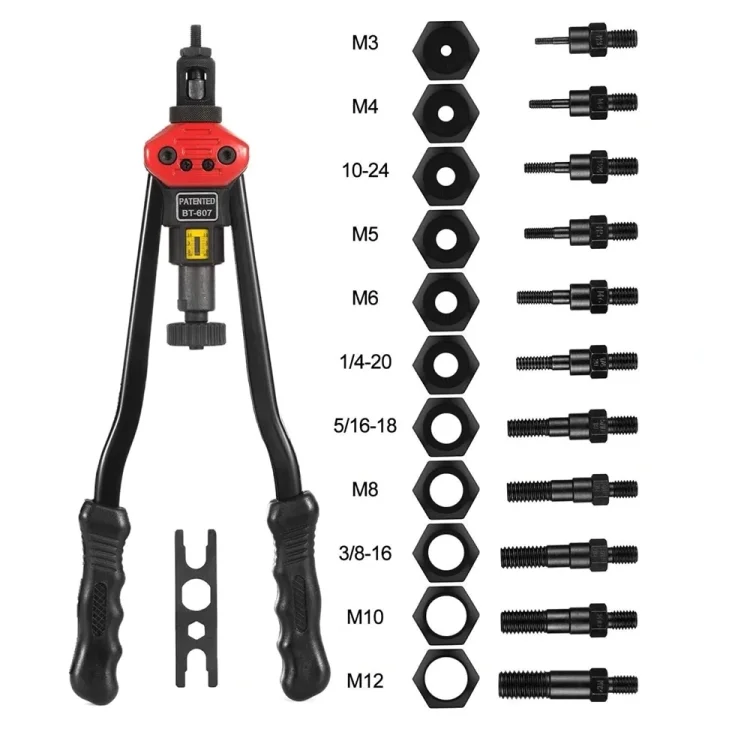 Description
Installing permanent joints in your cars, sheets and fixtures is a no-toil job with this Automatic Rivet Tool Set. The best thing about the tool is the enhanced comfort and convenience it brings. The long handles reduce the effort required to install the rivets while the easy-to-hold nut base gives a speedy operation. You can loosen and tighten the rivet with the twisting cap as well.
What you'll get:
Quality material: It's made with state-of-the-art alloy steel with rubberized handles for added comfort.
Manual: It is a hand-operated device that installs rivet between M3 to M12 holes.
Heavy-Duty Use: Great for metal fabrication, car modification, etc.
Durable: 3/25"(3mm) high-strength carbon steel handles make the rivet nut gun sturdier and more durable with 11 interchangeable mandrels to meet all needs.
American standard thread: 7 American Standard Threads M3 M4 M5 M6 M8 interchangeable mandrel/nose bridge kits in various sizes along with 4 SAE mandrels.