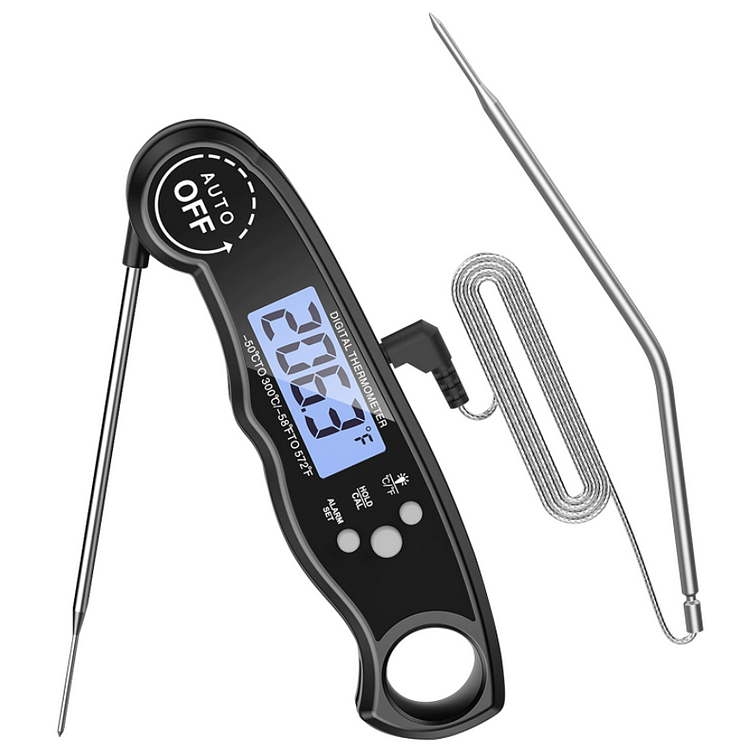 Features:
1. Fast and precise: the measurement range is -50°C to 300°C (-58°F to 572F), the accuracy is ±1°C, the resolution is 0.1°C (0.2°F), and the temperature can be measured quickly within 2-4 seconds. Don't worry about overcooked or undercooked food.
2. Food grade material: The probe is made of 100% food grade stainless steel, which is safe and non-toxic. The shell is made of heat-resistant material, flame retardant and high temperature resistant
3. Dual-purpose probe: the folding probe can only be taken out of the machine to measure food; specially designed external metal wire probe, 40-inch extra-long stainless steel mesh wire, 6.5-inch probe can be used in the oven/grill, Measure the core temperature of the meat and prevent hand burns; very suitable for roast turkey, roast leg of lamb, roast beef, cake baking, jam, chocolate, hot water, hot milk, etc.
4. Alarm setting: The required temperature can be manually set: 1) Short press the ALARM SET button. 2) Press and hold the °C℉/HOLD button to increase/decrease the temperature. 3) Press ALARM SET again to complete the setting; this smart baking thermometer will beep to notify you when the required temperature is reached
5. Easy to store: The built-in magnet makes storage a breeze. Stick it on any metal surface. When you need to use it again, you can clearly know where it is.
Specifications:
•Temperature measurement range: -50°C to 300°C (-58°F to 572F)
• Display resolution: 0.1°C/0.2°F
•Accuracy: +/-1°C( -2°F) at-20°C to150°C(-4F to 392F)
•Shell material: flame retardant, high temperature resistance, drop resistance, environmentally friendly ABS material
• Probe material: food grade safety 304 stainless steel probe
• Use battery: 3V button battery (built-in)
• Energy-saving settings: 10 minutes of no operation automatically shut down
• Probe diameter: 3.5mm
• With wire probe diameter: 4mm
• Probe tip diameter: 1.7mm
•The diameter of the tip of the wire probe: 2.18mm
• Probe length: 120mm
• Length of probe with wire: 167mm
•Temperature measurement speed: 2-4s
• Built-in magnet
• White backlight function, the backlight will turn off automatically for 10s duration
• 0 degree calibration function
• With custom alarm function settings
• Built-in memory function, can remember the temperature unit selected by the user after shutdown
Package Included:
Thermometer *1
Probe*1
Manual *1