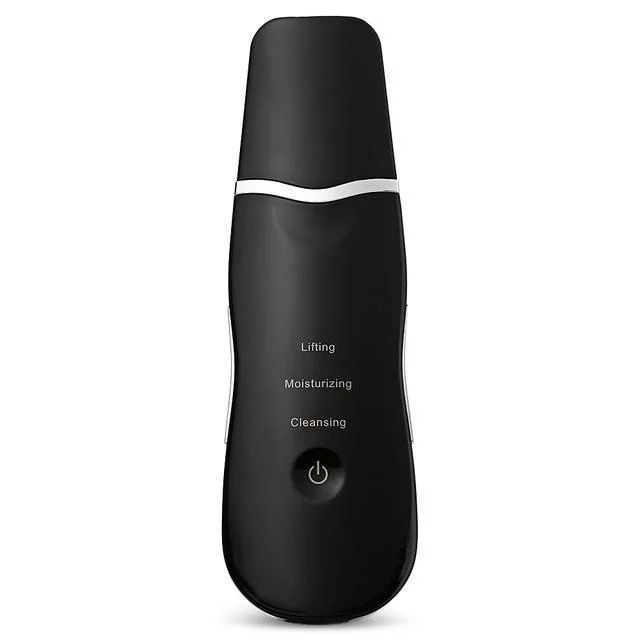 Features:
The newest generation of microdermabrasion
Removes fine lines, wrinkles, blackheads, cleanses & whitens the skin
Doesn't cause redness and requires no downtime
Rechargeable with a USB cable
Available in Black and white colors
Description
The Derma Skin Scrubber Pen is the newest generation of microdermabrasion. This component won't cause redness and doesn't require any downtime! It offers re-texturizing results using safe and gentle ultrasound vibration.
It also provides an intense micro-massage to heat the skin tissue which, in turn, stimulates blood flow. The skin scrubber also helps aid in the penetration of skin care products into the deeper levels of skin tissue, accelerating blood circulation and strengthening skin tissue metabolism. The end result? A reduction of fine lines and wrinkles!

If you're searching for a multi-functional device that can be used for deep cleansing, soft peeling, extractions, exfoliation, massage, product penetration and even fine lines or wrinkle prevention, the Dermabrasion Skin Scrubber is the perfect choice for you!
Cleansing application uses ultrasonic wave and nano technology, while the Moisturing application improves micro-circulation, dredges sweat glands, and shrinks pores. The Lifting application helps to solve many other skin problems.
To operate the Derma Skin Scrubber Pen-
Press and hold the button down to turn device on.
Press button a second time to Cleanse.
Press button a third time to Moisturize.
Press button a fourth time to Lift.
Press Five and Six times and hold to turn device off.
Clear away blackheads, dead skin cells and dirt particles- The high frequency vibration extracts skin impurities while the spatula shaped head clears it away.

Help stimulate blood circulation, diminish fine lines and wrinkles, clarify acne and blemishes.

Charging cable included. The facial exfoliator can be used for weeks on a single charge.

Improve nutrient absorption and enhance cells penetrability. Best used in combination with deep cleansing oil, cleansing foam, serum or essential oil.

Skin exfoliator, skin cleanser and microdermabrasion tool. The perfect skin care device for aestheticians or home use.