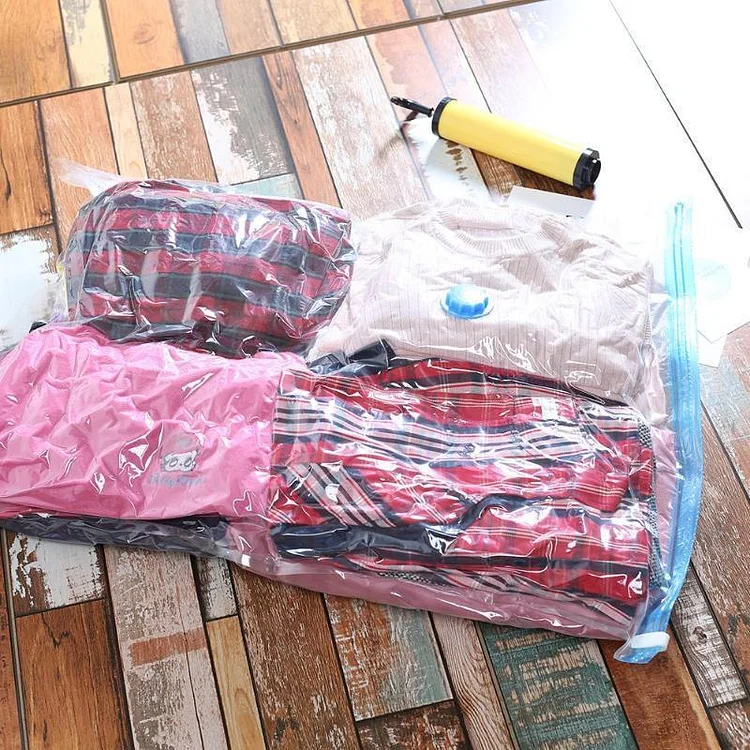 Features:
ids in efficient storage
The vacuum hand pump helps to deflate air from bags
Reduces the volume up to 70%
Perfect for packing bulky items
Easy to use & clean, Operation: Manual
Available in 2 dimensions
The bundle consists of 10 bags
Description
With this Compressed Organizer Bags Bundle, you can stop struggling to stuff and cram clothes into your closet, dresser or luggage once and for all! This amazing mini-vacuum buddy helps you to organize and pack more efficiently, while saving you valuable space in your closet. Now, you can go on more shopping sprees without worrying about where you're gonna put it all once you get it home!
Packing your clothes with this vacuum pump is the perfect solution for downgrading your checked bags to carry-on, as it's capable of reducing the size of soft goods by up to 70 percent! The pump removes the air, while effectively compressing the items placed inside. When you're not traveling abroad, these reusable bags and pump are a dream come true when it comes to long term storage. Simply pack away all those bulky winter coats or last summer's beachwear with minimal hassle and maximum convenience!
Reduces the volume of items with superior compression for the ultimate space-saving solution.
It's easy to use! Just open the bag, load the items you want to store, close the bag, vacuum it up. Easy to clean and reusable.
Perfect for packing and storing comforters & blankets, pillows, sweaters, jackets, seasonal clothing and all other bulky items.
Great for use at home, while traveling, or moving, etc. and comes with an easy to use hand pump
Bag Dimensions: 15x20 Inches (40x50 CM) and 20x28 Inches (50x70 CM)
Manually operated
Reduces the size of soft goods by 70%