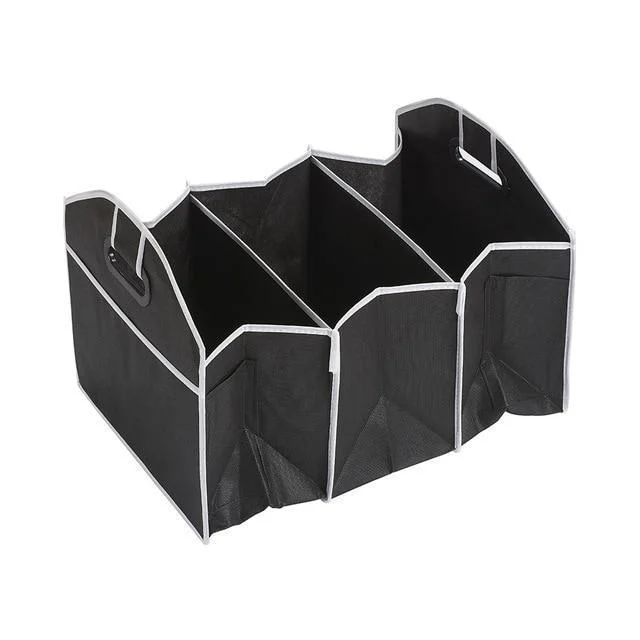 Features:
High-quality non-woven canvas material
Light, and compact
Have three pockets, to organize things differently
2 dark colors: Blue & black, don't get dirty easily
Use your intuition to store as many things as you need
Easy to wash with mildly hot water
Description
Keep your car's trunk neat and organized with this handy Car Trunk Organizer. Constructed from tough, canvas materials this organizer features 3 spacious compartments so that your trunk space can be used efficiently and completely! Perfect for storing groceries, emergency kits, paperwork and more. The collapsible design provides easy transport and convenient storage, while the reinforced handles, specially designed for durable, long-lasting use, are comfortable and convenient to carry. Makes everything easy to pick up and transport to another location, if needed!
This organizer is the ideal trunk organizer, for everything from groceries to car care products, but it's also the perfect storage solution for in- home use. Keep your home cleaning supplies neatly and conveniently stored. Use it for storing anything in your home, from children's toys to blankets, gardening equipment and tools to sports equipment. It's the ideal way to keep your home neatly organized and clutter free!
Features:
Height: 32.5 cm
Width: 32.5 cm
Storage: Convenient storage for car or home usage!
Item Length: 50 cm
Item Weight 290 g
Material: Non-Woven Fabric

Size: 23" x 12.5 x 12.5"