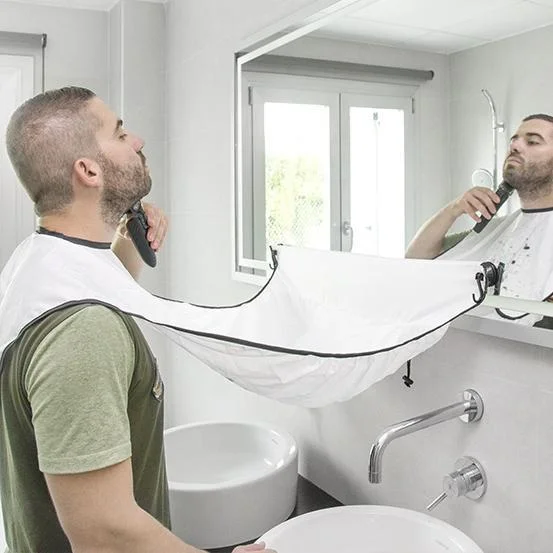 Features:
Wrap it around the neck
Material: 100% nylon
Waterproof / Machine washable
No mess on the sink while shaving
Color: white
Set of a Trimming catcher,2 suction cups,2 loop holders
Description
The beard trimming catcher bib is a simple yet highly effective way of catching your beard and facial hair while shaving. Instead of clogging the sink, the hair falls in the apron which can be discarded afterward. It can be easily attached to the mirror via suction cups and to your neck via Velcro straps.
Features:
Material: 100% nylon, water-proof, machine washing safe
Secure attachment: Suction cups attached with the ends of the bib can be stuck on the vanity mirror conveniently while the other ends are wound around the neck using the Velcro neck-straps.
Loop holders: Two plastic loop holders come with the package of the shaving apron. They can be stuck with the suction cups for pausing sessions. Unfold the bib once you are back after doing the task.
Saves cleaning time: No more time wasted on unclogging the sink due to struck facial hair or sweeping the floor. This attachment merely takes 10 seconds and keeps your washroom clean.
Give it as a gift: A good gift option for husbands, dads, brothers and stepdads who shed hair in the sink.
Folds up easily: Fold up the apron comfortably after use for storage.
Color: White
Package includes: Beard Trimming catcher, 2 suction cups, 2 loop holders