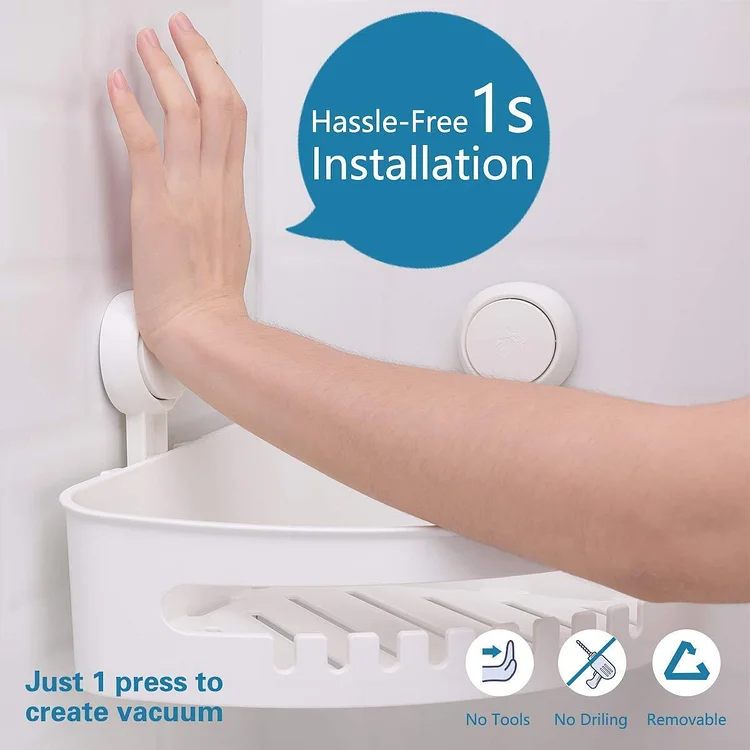 Suction Pro Cup Shower Caddy
If you rent a flat or move frequently, and the landlord does not allow drilling the walls to fasten bathroom racks that you need, then our product is just for you. You can attach our bathroom shelf wherever you want, and take it with you when you move out. The suction cup is made of anti-aging TPE material, and the shower basket is made of high-quality ABS, which ensures secure fixation and long operation time.
PATENTED DESIGN
The elastic PC board and skeleton in the suction cup will apply pressure to the sucker constantly. With this patented design, our bathroom baskets would never fall down incorrect installation.
How to Use
Clean the wall and keep it dry.
Buckle up the suction cup and the shower basket.
Press the suction pad strongly with your palm, until you hear a sound "puff".
Insert a thin card between the suction pad and the wall.
All-around drainage holes:
The corner basket is waterproof, perfect for bathroom, kitchen, living room...With 14 drainage holes in the bottom, water will drip away completely, keep your bath products clean and dry.
Wide Application:
The shower caddy is removable. You can take it out to wash and clean, even as a table organizer. Perfect for bathroom, kitchen, living room...
How to Reuse:
Wash and soak the hooks in warm water.
Blow dry or air dries it.