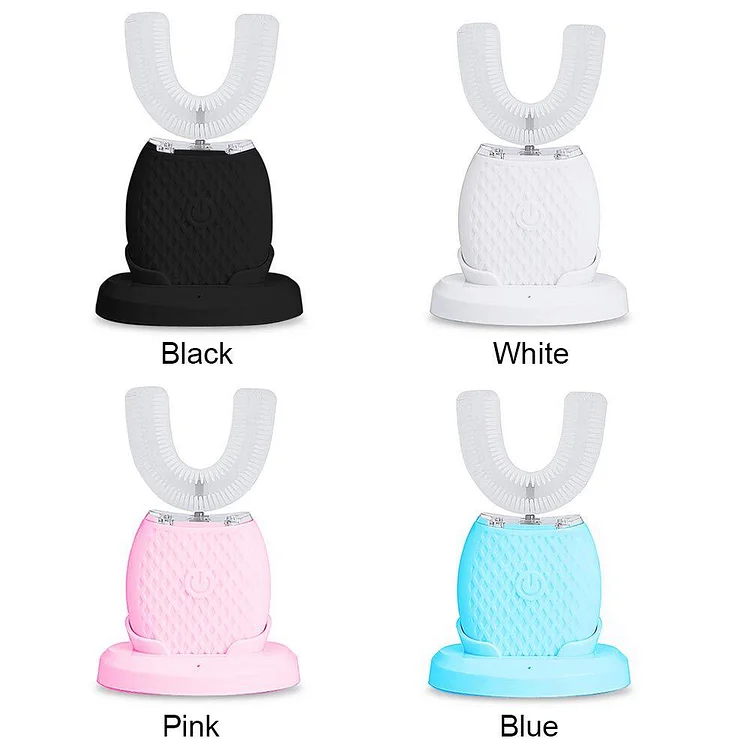 Features:
Seamlessly cleans teeth in 45 seconds
Helps to get white teeth & fresh breath
U-shaped 360° Brush holds soft silicone bristles
Kills 99.9% of bacteria
Supports wireless induction charging
Gets charged in 3 hours (lasts up to 15 days)
Colors: White, pink, blue & black
Comes with 4 ingenious modes
Description
Brushing your teeth has never been more exciting!

With the 360 degrees, Automatic Whitening Toothbrush getting those pearly whites super clean is now, super effortless! Using it is as easy as 1-2-3, simply wear it, wait a few seconds, and you're done! Perfect for all those on-the-go people.

In just 45 seconds you can clean your teeth and leave your mouth with fresh breath and whiter teeth! Sure to be the best toothbrush you've ever used and it's perfect for even the most sensitive gums. The silicone bristles are extremely soft, but clean thoroughly and effectively and the unique, U-shaped brush head fits perfectly in line with the shape of your bite, when worn. The brush works by producing high-frequency vibrations, which clean the surface of each and every tooth gently and efficiently, 360 degrees! You can feel confident, as this brush kills 99.9% of the bacteria that causes bad breath and tooth decay, keeping your teeth and gums fresh smelling and healthy. The Automatic Whitening Toothbrush is made of food-grade silicone to prevent allergic reactions and irritations.

With wireless induction charging, your toothbrush will be fully charged in just 3 hours and the charge lasts for up to 15 days, with regular use! Enjoy an instant gum massage and make your teeth brighter, cleaner and healthier with nano blue light whitening technology.

Choose from 4 different modes: Soft cleaning, strong cleaning, gum massage, and whitening mode. The portable design means that you can bring it with you anywhere. Use it at home, at work or even take it with you on your next vacation. The Automatic Whitening Toothbrush is available in White, Pink, Black or Blue.