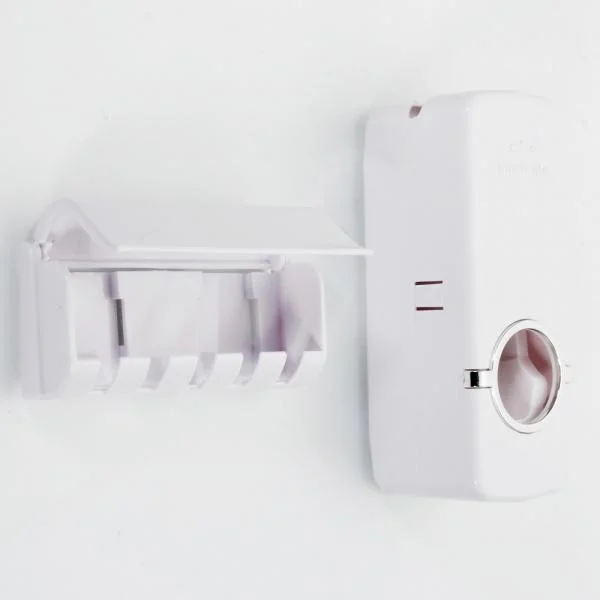 Features:
Made of strong flexy plastic
No more toothpaste waste with this germ-free dispenser
Dustproof casing eliminates 99.9% of harmful germs
Comes with a toothbrush holder for the whole family
No electricity required
Comes with free adhesive tape for easy installation
Available in elegant white color
Description
This unique, secure and easy-to-use Automatic Toothpaste Dispenser Set provides convenience along with hygiene and cost-effectiveness. The toothpaste goes inside the caddy and ejects the right amount with a single touch while the family members can put five brushes in the toothrbrush holder. The set attaches to the wall through thick double-sided adhesive tape.
Features:
Material: Plastic
Dust-proof design: The 5-toothbrush holder comes with a lid that protects the toothbrushes from dust, germs and other unsanitary materials. Eliminates up to 99.9% of harmful germs.
No more squeezing: The single-button operation of the toothpaste dispenser means you never have to squeeze toothpaste again. Particularly useful for kids who waste toothpaste through their flimsy hands and grip.
Saves counter space: It is attached to the walls so you can use the saved space to put other bathroom accessories like lotions, soaps etc.
Easy to install: Double-sided adhesive tape is attached on the back of the Automatic toothpaste dispenser to secure it with the wall. Clean and dry the wall before installation.
Saves time: No need for kids to find their toothbrushes placed waywardly in the bathroom now. They can easily store them in the toothbrush holder.
Package includes: 1x Toothpaste dispenser, 1x Toothbrush holder, Adhesive tape for attachment