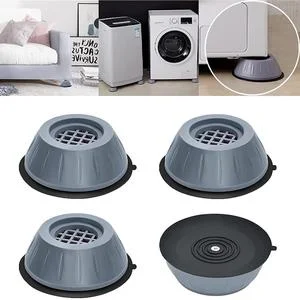 Properties:
Provides great sound and vibration isolation to ensure a quiet wash time.
Washing machine pads are made of durable rubber that will withstand years of washing and drying
In addition, it can easily lift your equipment, making it easier for you to clean under the washer and dryer.
These pads are used to stabilize the machine. Reduce noise, if movement is minimized, squeaking and cooing will also be reduced
Fits all washer / dryer sizes and can be used under or above the front loader without adding too much height.
Multifunctional washing machine t apis: suitable for washing machines, refrigerators, trolleys, washing machines, dryers, sofas, tables, beds, etc.!
Easy to install, just attach a pillow to each pipe and place the machine back on the floor or shelf. No glue required!
Specifications:
Material: Harzfaser, TPU-Kleber
Inner diameter: approx. 5 cm
Total height: approx. 4 cm
Load capacity: 2.5 tons

The package contains:
4/8/12 pieces * Shockproof washing machine holder