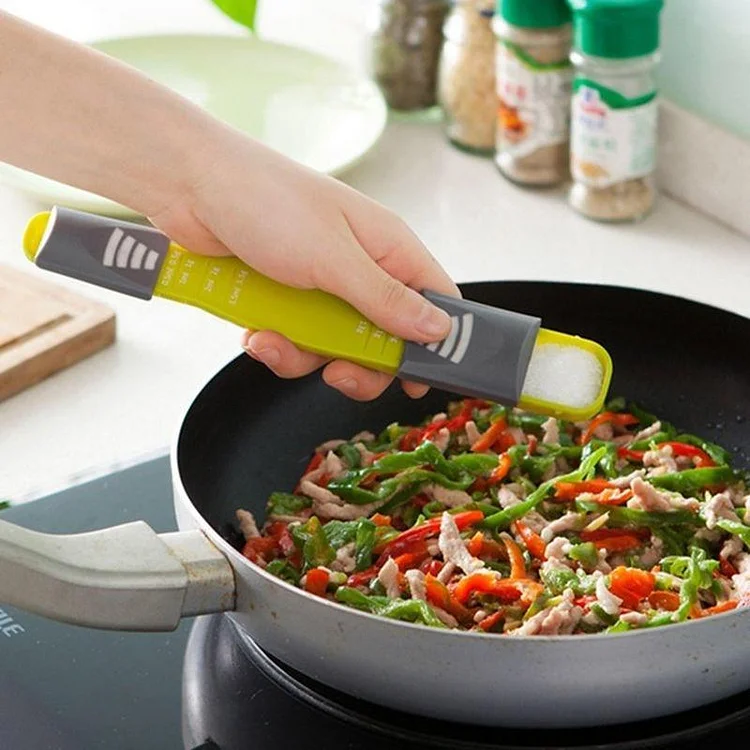 Features:
Made of ABS, TPR & PP
9 measuring points ( 1 ml – 13 ml)
Saves time and increases precision while preparing food
Grooved thumbprints help to move the slider effortlessly
Dishwasher-safe
Description
This Adjustable Measuring spoon reduces clutter in your kitchen by combining every tablespoon and teaspoon implementation in one tool. Modern looking and easy to use, this spoon is rated in small dimensions of milliliters so that your dishes and recipes are precisely spice-proportioned. It is a must-have for all cooking enthusiasts and women.
Features:
Material: Food-grade ABS, PP, TPR
9 measuring levels: With a total of nine measuring levels in milliliters (1ml-13ml), you can scoop in and add accurate proportions of spices, salt and liquids in your dishes. The levels shift through easily. To use, just slide the cover and it will stop at the desired measurement.
Saves time: This adjustable measuring spoon will cut down all the time consumed on getting separate spoons for each quantity. Also saves space in the cabinets.
Dishwasher safe: It can be cleaned easily, doesn't affect the taste of your dishes, is durable and can be stored comfortably.
Sliding Measuring Spoon: The grooved thumbprints help you in moving the slider back and forth without applying any effort at all.
Modern-looking: It isn't just all utility. The look is quite modern with smooth edges, dark-colored slider and perfect contours.
Size: 22 x 3.5 cm/8.7 x 1.4 in
Color: Green