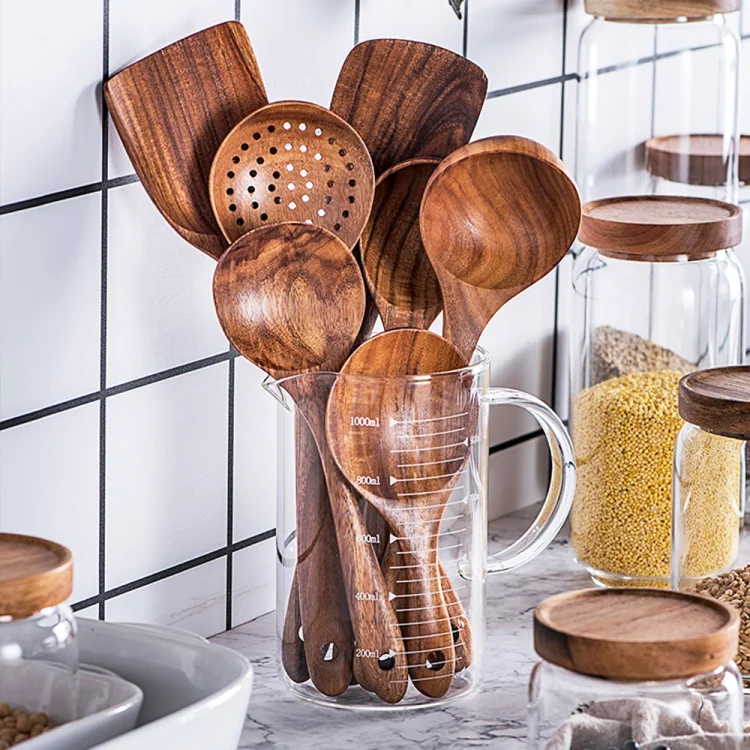 Features:
Made of Thai Teakwood
Non-toxic, handmade
Wear-resistant
Odorless
Description
It's time you replace your plastic or metallic kitchenware with these beautiful and cookware-safe teak wood kitchen tools. Handcrafted and polished with high-quality Teak wood, this eco-friendly kitchenware ensures you have healthy, safe, elegant and stylish cooking without any damage to the non-stick coatings of your cookware.
What you will get:
Made from Teak wood: Teak is one of the quality woods resistant to termite, beetles, wood rot, and fungus. Using this, you participate in the global campaign of using natural, renewable, and biodegradable resources.
Good insulators: Another aspect of these utensils is their ability to absorb lesser heat so that when you cook at high temperatures, your hands remain safe.
Non-Toxic: No need to worry about kitchenware harms, as these great utensils are free from any toxic material. So, cook your food at high temperatures with these spoons and shovels without any health concern.
Beautiful grains: Teak wood has some of the beautiful natural grains that no other wood has. Means, your kitchenware is not only a tool in your kitchen but an expression of your artistic nature.
Non-damaging: This rustic and eco-friendly kitchen toolset does not scratch the bases of your cookware like stainless steel and cast-iron pots, etc.