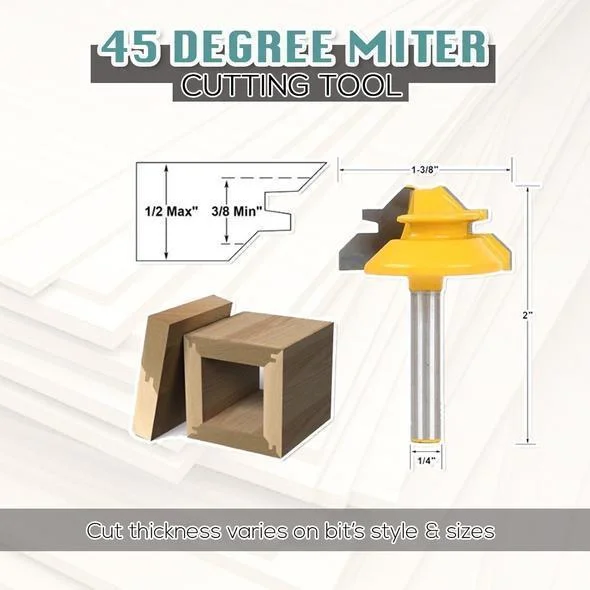 Easily Create Perfect Joints For Your Woodworking Projects!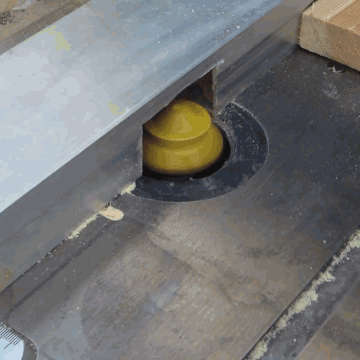 Become a master in creating drawers, boxes or even hollow columns with the help of this 45-Degree Lock Miter Router Bit!
The interlocking 45°cut will help you produce extremely strong joints by providing a mechanical advantage of keeping the parts from shifting when they're clamped up. It has an optimal shear angle and extra-thick tips to give you the unmatched precision and maximum cutting life that will surely meet all your needs.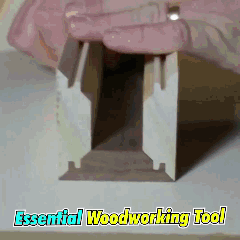 FEATURES:
GREAT FOR MAKING DIY PROJECTS: Helps create attractive decorative edging that gives a unique finish to every workpiece like furniture and decorations
LONG-LASTING: The fully hardened steel shank provides ultimate durability
PRECISE, CLEAN CUTS: Its high hook and shear angles allow cutters to slice smoothly into stock producing clean, splinter-free cuts
TIME-SAVING: Guaranteed to save both your time and energy when doing home improvement or store construction
VERSATILE: Suitable for solid wood, particleboard, MDF, plywood, etc.
WIDE APPLICATION: Great for making a wood drawer, window, cupboard or other woodworking projects
SUPERIOR QUALITY: Made of high-quality materials with heat-resistant Teflon coating to prevent building-up of sawdust, resin, and pitch
EXCELLENT GIFT IDEA: This makes a wonderful gift for every woodworking enthusiast because it is very easy to operate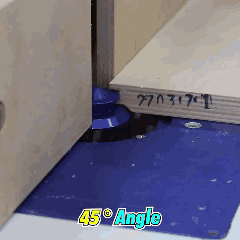 SPECIFICATIONS:
Body Material: Solid Hardened Steel
Blade Material: Industrial-Grade Micro Grain Carbide
Feature: Anti-Kickback Design
Shank Size: 1/4 Inch,1/2 Inch
Cutting Diameter: 1-3/8 Inch (34 mm)
Shank Length: 1-1/4 Inch (32 mm)
Overall length: 2 Inch (51 mm)
Processing Board Thickness: 95 - 165 mm
PACKAGE INCLUDES:
1 x 45-Degree Lock Miter Router Bit