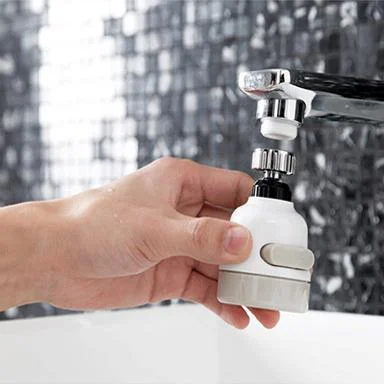 The innovative design of our360 Degree Sink Aerator Headallows you to move it into virtually any position, inside or outside of your sink. The reach of this faucet ranges from less than two inches to over five inches. Switch from regular flow to the 3-mode spray functions with the touch of a button and choose between: Jet, Jet + Shower or Shower only. The ergonomic button on the sink aerator headensuressimple operationeven with wet, soapy hands. The regular spray mode creates a wide, forceful blade of water, powerful enough for a superior cleaning.
The360 Degree Sink Aerator Headis made of durable and safe ABS, silica and stainless steel and the attractive design finishes are modern in style. Create a luxurious and chic kitchen design with a classic flair with this clean, modern form, sink head.
Compatible with most round tap heads. Not compatiblewith square tap heads.
Easy to install.
Reduces energy costs and water usage byupto70%.
Extremely durable.
360-Degree Twist and Easy Control.